Les Chambres de Jacques / Jack in a Box
BJM Dance (Les Ballets de Jazz Montreal)
Creu Cymru with support from the Arts Council of Wales
Taliesin Arts Centre, Swansea
(2011)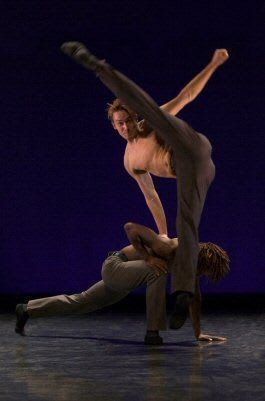 There are few things guaranteed to set the pulse racing during an evening at the theatre, but for my money it is difficult not to become wholly absorbed in a contemporary dance production, particularly when the company is as superlative as this Canadian outfit, comprised of performers whose mastery of dance theatre is world class.
The evening consisted of two pieces, choreographed by New York-based Aszure Barton and performed with total commitment and a sustained degree of physical energy best described as near super-human: the pace never flagged for a second and every aspect of the production was spot-on.
The soundscape - an ideal word, since the music undulated from Gregorian chants and Canadian folk music right through to Latin American rhythms and even a track akin to the percussive beats associated with Peking Opera in which the dancers follow the sound with their own gestures and expressions - was ideally chosen and played to great effect in Taliesin's auditorium, a space long associated with technical excellence and one in which contemporary dance works particularly well.
The dance ranged from an initial male solo in which the movements were as sharp and sinuous as a karate kata through to witty pastiches of folk dances and even segments akin to the old apache stage dance beloved of French dance fans for generations. I also recognised elements of Brazilian capoiera, a hybrid martial art/dance style which calls for extraordinary stamina and flexibility.
Barton's choreography is remarkably inventive and quirky, relying not upon the usual cliches associated with modern dance theatre but instead demanding far more from the performers in terms of expression, humour and physical ability: while the explanatory notes in the programme may not always have tallied with what was happening on stage, this was an evening which could be enjoyed by everyone - even if the themes and messages explored in the pieces were not always clear, it was evident that we were in the company of a group of highly talented and creative artists who were dedicated to their craft and whose passion for the form was conveyed to great effect.
I do not recall a visiting dance group taking quite as many curtain calls as occurred here, nor hearing such a rapturous reception from the crowd. This was an event which demonstrated that there is a massive appetite for modern dance, and at a time when funding for the arts is constantly under threat it shows that the performing arts are vital to the public good and not just for the elite few. In short, a triumph.
Reviewer: Graham Williams