Less Than Kind
Terence Rattigan
Planet Theatre Productions
Salisbury Playhouse
–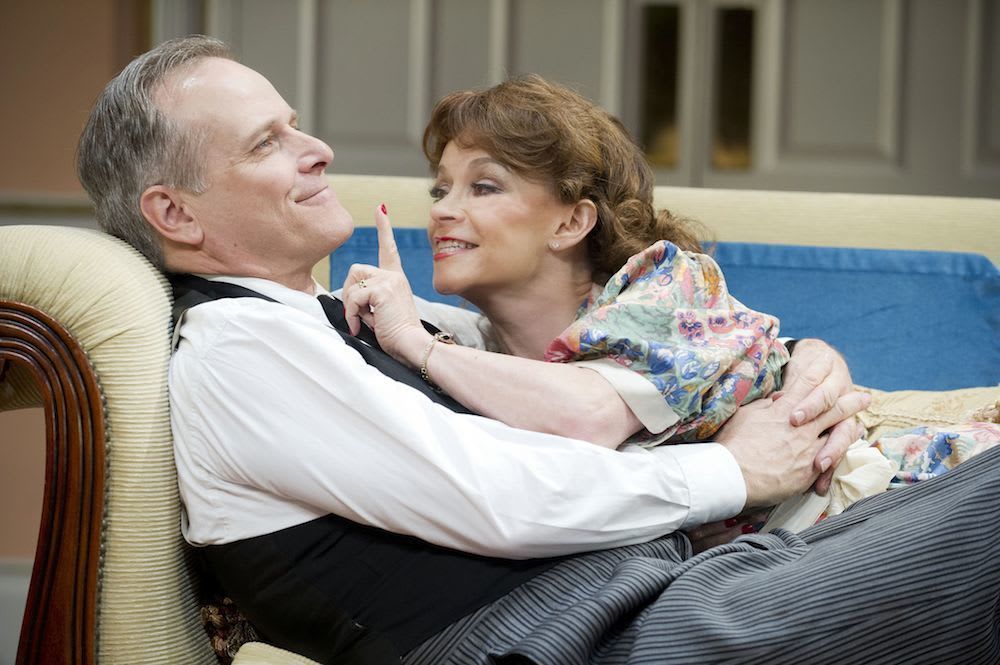 The play opens with sound of exploding bombs. And when the lights come up we see that the set's windows are criss-crossed with brown paper sticky tape. So we know we're in a war zone which, since Less Than Kind was first written in 1944, sends us straight into the middle of the London blitz.
It's probably Rattigan's least known play and this is a pity, but when it was first staged, the director, who also played the main character of Sir John Fletcher, decided to make a few—then a lot more—changes to the script, turning the Claudius-based Sir John almost into the hero of the piece. (Yes, you're right, of course. You recognised the significance of the title from Hamlet's aside to the audience when Claudius claims him as both his cousin and his son, ' a little more than kin and less than kind').
Other alterations were made and, although the play became a short-lived commercial success, the critics derided it to the extent that it was eventually abandoned.
Fortunately, there was one copy of Rattigan's original script left, the one that had been submitted to the Lord Chamberlain, which is why, after a break of nearly seventy years, we're able to see it tonight.
We're in a spacious, tastefully furnished and decorated drawing room. Olivia Brown (Sue Holderness) is engaged in organising a forthcoming dinner party for twelve and responding to other demands on her social life (the dinner party will make significant demands on her stash of coupons as well, so they'll be dining at the Dorchester tonight).
She is a highly popular and beautiful hostess and shares this life with Sir John Fletcher (William Gaminara), an even busier government minister—the Minister of Tanks—who is also an immensely rich steel manufacturer. When Sir John enters, it is with a large bunch of flowers for Olivia, to which she responds with loving playfulness. They are obviously deeply attached.
A threatened crisis emerges when Olivia tells Sir John that her seventeen-year-old son, Michael (Charlie Hamblett), evacuated to Canada for the duration of the war for the last five years, is coming home to England and will arrive this very evening.
When he turns out to be dogmatically opposed to everything political, economic and ethical that Sir John represents, the tensions that are generated threaten to destroy the powerful bonds of Olivia and Sir John's seemingly unbreakable relationship and the first half ends in apparently irresolvable acrimony.
Okay, that's families for you. But for the audience there are some unanswered questions.
Why was Michael returning at such a time when air and sea travel were particularly fraught with danger? Surely his mother should have urged him to stay where he was safe. And why was he so cocky, so sure of himself? Wouldn't 1943 Britain have been a scary place for a teenager, even such an unimaginative one? Wouldn't he have had questions to ask of an authoritative figure like Sir John before sounding off at him?
And how did Michael, after five years in Canada, manage to emerge without even the faintest trace of a Canadian accent, something which might actually have gone some way to placating the Canadian-born magnate?
As always in this kind of situation there are calming influences, in this case supplied by the unflappable Polton (Katie Evans) and Michael could have gone to her for advice and solace in the folds of her vast apron.
Alas, when the curtain goes up on the second half, Polton is no longer around. We're in the less than salubrious surroundings of the house in Barton's Court, where Olivia lived with her husband, a not very successful dentist, before his death. Michael has found love with an apparently unsuitable lady, while Olivia wistfully scans the magazines for glimpses of her past life in fashionable society.
And it is this part of the play that begins to engage not only our careful attention, but our compassion. Michael is beginning to grow up and look to the future, the laughter (after all, this is Rattigan) is no longer just a response to cleverly contrived predicament and dialogue, but is an emotional response of relief when things begin at last to go right for him and for the others.
Because we care, not just for the characters but for the future of this play. It's got a few minor flaws, maybe, but its gestation was difficult, its birth traumatic. Now that it's finally emerged into the sunlight, after all this time, please can we look after it?
Reviewer: Anne Hill