Lessons of Leaking
Dmitrij Gawrisch
machina eX
Barber Studio, West Yorkshire Playhouse
–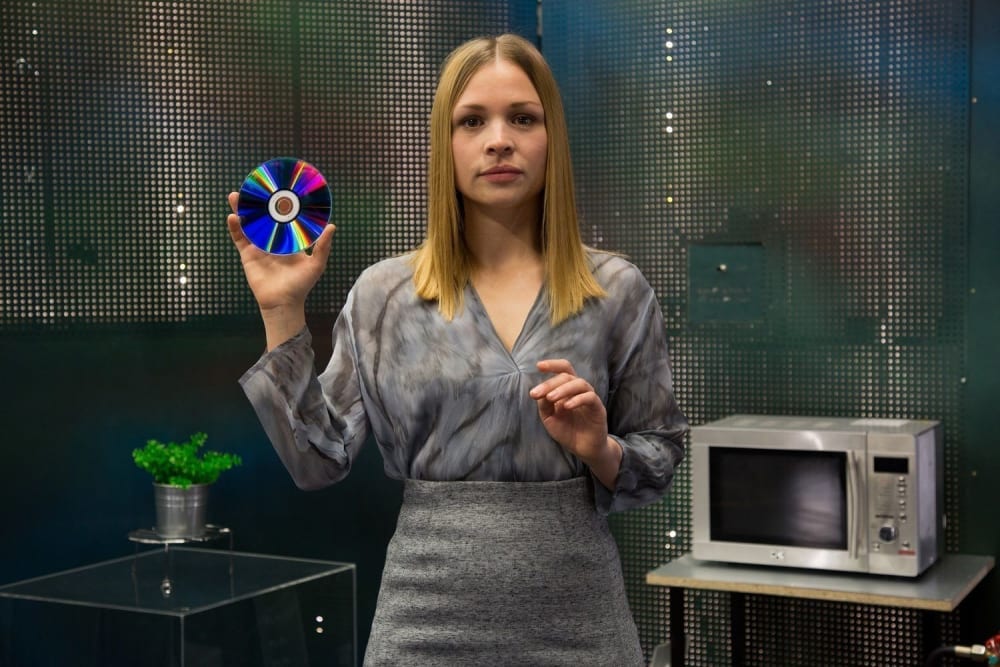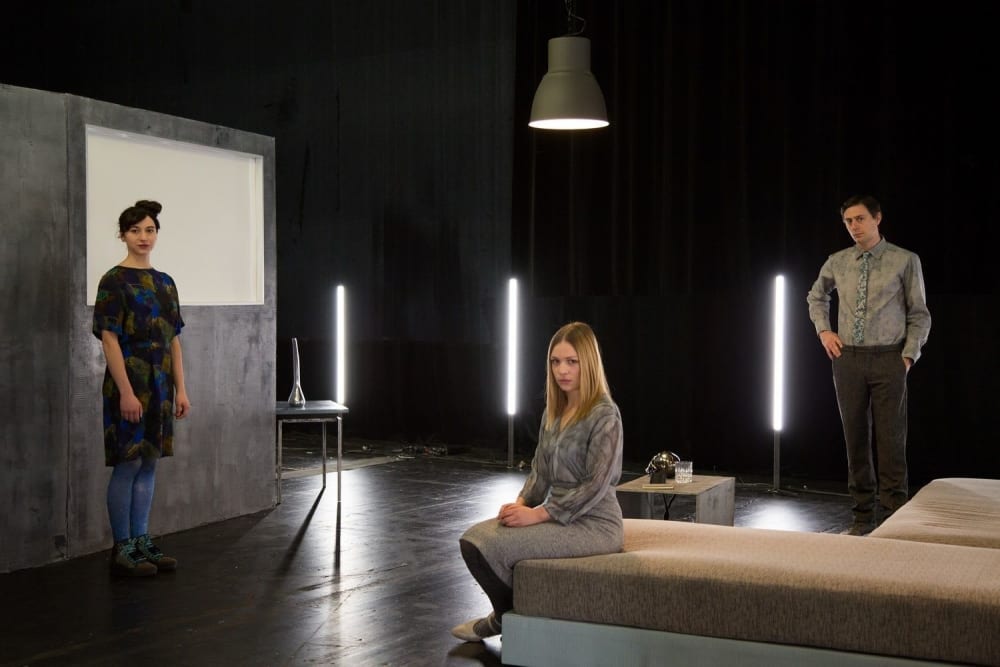 In the theatre, "play" has a pleasing double meaning. Lessons of Leaking works with this duality, presenting itself as a "theatrical game". Its creators, machina eX, are a young German collective of theatremakers and tech-minded media artists, visiting the Transform festival with this immersive performance which invites its audience to play rather than merely spectate.
The world depicted is one of a near-future Germany. Led by a dour authoritarian figure leveraging rhetorics of control and nationhood, the country is faced with a referendum on their future membership of the EU.
A group of around a dozen audience members is ushered into a swish apartment to observe a couple dressed in silvery shades of grey, speaking over and alongside each other on handsfree headsets. They are setting up a variety of high-powered deals and meetings: it soon emerges that this pair is David (Roland Bonjour), a key figure in the EU's (fictional) Protection Service—essentially a (super-)state surveillance agency—and Clara (Nora Decker), an employee at a significant data-handling firm.
A small domestic scene plays out between them, including some backstory and explanation of the setting, and the show eases the audience into the convention that we are present but evidently invisible to the characters; we have to find a suitable vantage point and manoeuvre around the space as we see fit.
Then, an oddity occurs. Clara wants to watch the news, but she can't find the batteries for the remote. The pair circle round a short sequence of dialogue about the predicament, their repeated movements appearing slightly mechanical. They're suddenly less like actors and more like Non-Player Characters in a point and click adventure game, explaining our mission in repeated dialogue and awaiting user input. So, as a group, we hunt for the batteries.
It's a gentle tutorial level for what turns out to be a piece riffing on mechanics from a variety of game types. Often the challenge is reminiscent of a point and click, browser-based 'hidden object' game—we search through a lot of possible hiding places before hitting upon the one pair of batteries in the room, for instance. The reward is the unfurling of the next segment of storyline: we watch the news together, filling in further pieces of the political situation.
There is an atmospheric and almost constant backdrop of apt, looping electronic music by Mathias Prinz and also excellent design by Anna Fries and Franziska Riedmiller, which take us into an uncanny near-future which does feel like being in a video game. The performances, too, are really winning.
Bonjour, Decker, and third performer Ayana Goldstein interact smoothly (NB in a second language) and handle audience miscues and unusual solutions with charm and a hint of humour. Bonjour and Decker make a plausible power couple and likeable protagonists, and we end up following Decker's character Clara to other locations as the plot takes an espionage turn and other game mechanics—top-down stealth, collaborative puzzle-solving, escape room—come into play.
It's an ambitious offering which draws on a range of technologies in achieving its effects. Unfortunately, when I saw the show, a technical hitch of some kind (I don't think it can just have been audience incompetence…) caused a lengthy delay, somewhat sapping the energy and momentum of the piece just as it should have been building to a climax.
The game dynamic does succeed in opening up what might be quite reticent participants to collaboration, inventiveness in solving issues, and ultimately discussion—it would be interesting to observe (or participate) numerous times to compare approaches, audience responses and game outcomes. But it does also feel as though the impact we can really have on the outcome is minimal; perhaps one of the most obvious downsides of the video game lineage is the feeling of being railroaded along a very limited set of paths.
Then again, perhaps this is a fitting reflection of current political choice. The piece, then, makes a bold and exciting attempt to apply modern technologies and game-playing strategies to an absolutely up-to-the-minute political story; it's just that at times technology gets the upper hand, and the politics ultimately takes a backseat to the play.
Reviewer: Mark Smith