Let It Be
Music by John Lennon, Paul McCartney, George Harrison (Phil Medley and Bert Rusell)
Jamie Hendry Productions, Annerin Productions, BB Promotion, Magicspace Entertainment, Rubin Fogel and Julian Stoneman Associates
Palace Theatre, Manchester
–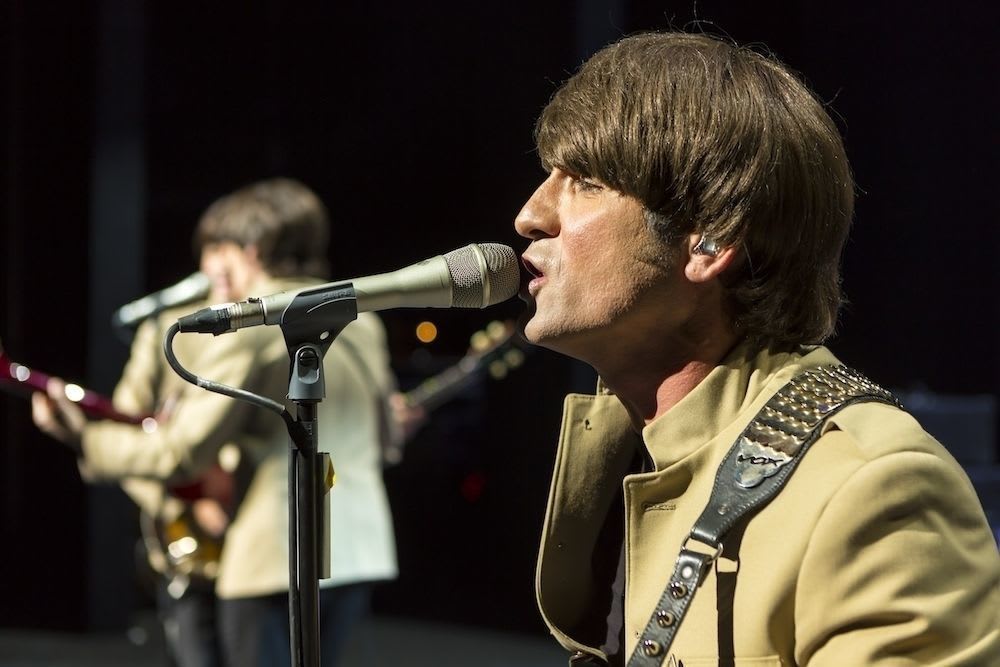 If you've ever sat in front of your TV, watching a documentary about the Beatles, and thought, 'too much talk, too little music', Let It Be could be just the show you've been seeking.
If you've ever wished you'd seen the Beatles perform live (or, having seen them, wished you could relive the experience) Let It Be might offer consolation for your sense of loss.
Unlike those jukebox musicals which attempt to weave the songs into a docudrama format (such as Buddy) or hang them on a piece of fiction (like Mamma Mia), Let It Be is essentially a high quality tribute band show, with some documentary stuff thrown in to carry us through set and costume changes.
Of course, in terms of sheer excitement, we don't get the true Beatlemania experience—although the wall-of-sound screaming that accompanies the recreation of the Shea Stadium gig provides a commendable sense of what it might have been like (and why, after that ordeal, the Beatles effectively gave up touring and live performance, to focus on recording). On the plus side, the absence of screaming fans and improvements in sound technology means that we are treated to an impressive number and astonishing range of great pop songs, performed by a very capable group of musicians.
My major quibble, aurally, would be due to the threat of cardiac arhythmia induced by an over-amplified bass drum. Bear in mind, sound engineers, that the clear majority of your show's audience are of that age group who used to play these tunes to death at 33 and 45 rpm, stretching back 50 years ago. These are children of the Flowerpower era, not the Rave, House, Garage, Jungle or Grime eras.
Haircuts, costumes and sets (along with the video and sound clips displayed on screens around the auditorium) invite us to travel with the four lads from Liverpool, from their Cavern days up to their final incarnation, as the Swinging 60s slipped into the Strife-ridden70s. Once we enter the psychedelic era, lighting (Tim McQuillen-Smith) and video design (Duncan McLean, Darren McCauley and Mathieu St-Arnaud) come into their own: watch out for "Eleanor Rigby" and "Lucy in the Sky" in particular.
This evening's Fab Four (the cast rotate) are Michael Gagliano (as a mischievous John), James Fox (a charming, smarming Paul), John Brosnan (George, shy and gifted) and Ben Cullingworth (Ringo, the lad-next-door-who-can't-believe-his-luck). These four are ably supported by Steve Geere on keyboards. All play their instruments excellently and each makes a decent job of imitating the singing voices of his alter ego. Their banter and recorded dialogue for the documentary clips is good enough to pass with a Mancunian audience, but would cause a mini-riot on Merseyside. A little more work needed there.
Tonight's audience are happy and biddable enough to be ordered to their feet early on ("Twist and Shout"). That precedent established, every instruction to clap, scream or sing along is enthusiastically embraced.
After the interval (mid-Sergeant Pepper era) the documentary element is dropped (no mention of key episodes like the lads' entanglement with the Maharishi Mahesh Yogi or of John falling for Yoko). From now on, the show aims unabashedly to be The-Beatles-Gig-That-Never-Was with many of their later, innovative and challenging hits tackled with verve and success. Riskily (well, perhaps not, this audience is so eager to cooperate) the show's title song is left for the encore. "Hey Jude" (what else?) provides the singalong finale.
It used to be said that imitation was the sincerest form of flattery. The audience reaction to Let It Be suggests that imitation may now be the surest form of licence to print money. Don't be surprised to see this show doing stadium tours of the USA and Japan, while its target group can still twist and shout without needing to reach for our zimmer frames.
Reviewer: Martin Thomasson