Leviathan

James Wilton Dance
Contact Theatre
–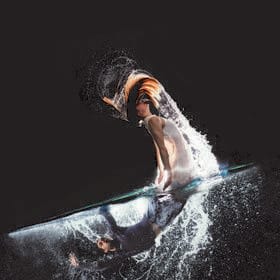 It's amazing what you can achieve with six dancers, an electro-rock soundtrack, some atmospheric lighting and a few lengths of rope. James Wilton Dance's latest work, Leviathan, is low on visual frills but high on athleticism, dramatic impact and meaningful message.
Loosely retelling the story of Moby Dick, Wilton uses the story of Captain Ahab's obsessive pursuit of the great White Whale as a springboard to explore mankind's relationship with the planet. Leviathan has an unquestionably environmentalist agenda—Ahab (danced by James Wilton himself) seeks to exert his power not just over the whale, but also over his feral crew members, who scurry across the stage on all fours.
There's a neat tableau of the stages of man, with Ahab as the final stage and turning to fire a gun at his own evolutionary history. It's thought-provoking and more than a little depressing to see mankind's callous attitude to nature played out onstage, but James Wilton Dance should be applauded for proving how effectively dance can engage with current issues.
Sarah Jane Taylor, the only female member of the cast, embodies the White Whale and nature itself in beautifully sinuous solos. A lack of eye contact with the audience maintains the great animal's sense of enigma, whilst the constant rippling movement in her limbs and back mimics the motion of underwater creatures.
The first half of Leviathan focusses on Ahab's battle to bring both the men and the whale under his control using long, thick ropes—this reflects not just the maritime theme, but also the inescapable ties that bind our global ecosystem. The second half has a very different feel, as nature and the White Whale turn the tables to triumph over Ahab. The final image is of the captain and his men quite literally thrown across the stage on their stomachs, while the whale stands triumphantly over them in the glow of several spotlights.
James Wilton's style is a breathtakingly physical combination of contemporary dance and martial arts-inspired movement. The power struggles portrayed in Leviathan lend themselves to it perfectly, as partner work combines combat and cooperation with exhilarating effect. In one duet, Ahab and one of his crew perform whilst restrictively clasping each other's wrists; another section sees the crew forced to revolve around their captain at increasing speed.
One-handed cartwheels, flips, shoulder balances and swan dives from the wings abound, but these feats of agility and strength aren't just jaw-droppingly impressive—they also aid the telling of the story.
Leviathan is a powerful, meaningful and unique piece of contemporary dance that should be recommended viewing for dance and non-dance fans alike.
Reviewer: Georgina Wells