Leviathan
Matthew Trevannion
Traverse Theatre Company
Traverse Theatre, Edinburgh
–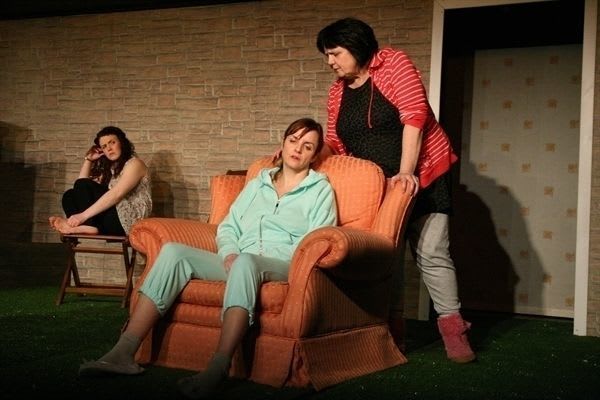 A Play, A Pie and A Pint is back at the Traverse. This lunchtime institution, which began at the Òran Mór in Glasgow, continues to go from strength to strength. A new feature is an extra show on Friday at 7PM, so that those who work nine-to-five without a long lunch break can still catch each week's play.
This week's play features three generations: a grandmother, mother and daughter trio. The title is a word which embodies the mother, Karen's severe depression. While much of the play's dialogue involves the other two women, Karen's mother and daughter, it is Karen (Claire Cage) who holds the audience's attention with her powerful portrayal of someone incapacitated by her problem.
Grandmother Mavis (Siw Hughes) and her granddaughter Hannah (Gwawr Loader) might as well be on another planet. The back-garden set reflects this too with Mavis and Hannah, when they do sit down, sitting on garden chairs while Karen spends the whole time on an armchair that has been brought out from the house.
The short play ably shows with just this simple set the divide between someone experiencing depression and the world around them. It also shows through Hannah the difficulty and frustration people have in dealing with depression in others.
It is not a wholly dark play; Mavis and Hannah have fun winding each other up, particularly over Hannah's wealthy, but significantly older, boyfriend. Thankfully, the play also manages to end on an optimistic note.
The broad Welsh accents, particularly Hughes's, add to the humour of the piece and there are a lot of quite funny discussions of class. Hannah though has her own problems, but there is some ambiguity about whether or not she is stretching the truth to upstage her mother's illness.
Not only very good acting but very different performances from the three actors, ranging from comic and angry to Cage's subtle portrait of someone really really lost. Cage looks so convincing, even from close-up, that you are drawn to look at her even when the action is focused on the other two actors.
Theatre that tackles a difficult subject and manages not to lurch into cliché or sugar-coat the issue. Really good performances too from the three actors.
Reviewer: Seth Ewin