Lie Low
Ciara Elizabeth Smyth
Ciara Elizabeth Smyth and Prime Cut Productions
Traverse Theatre
–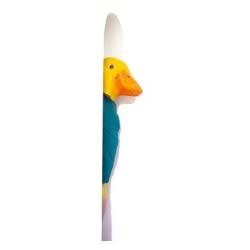 Faye (Charlotte McCurry) has sought out the assistance / advice of her brother, Naoise (Michael Patrick). She's not sleeping; not in 2 weeks. She was having nightmare of finding a man / duck (Thomas Finnegan) in her wardrobe.
Naoise is will to try on every psychiatric label that comes into his mind. Naoise arrives to apologize and try to help Faye. And, of course, there are major family secrets to be exposed in the process.
In this funny, dark dream written deftly by Ciara Elizabeth Smyth and creatively directed by Oisin Karney, we sometimes have trouble keeping up and sometimes can't accept our outrageous predictions.
The director and actors take us to surprising places. Hats off to the brave actors who seem to go as Smyth and Kearney can. Thomas Finnegan is a scary duck and talented dancer.
Reviewer: Catherine Lamm