A Lie of the Mind
Sam Shepard
Highway 2
BAC
(2006)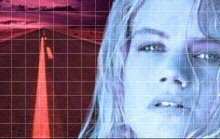 There's no 'settling-in' period for the audience in a Sam Shepard play and A Lie of the Mind is no exception. From the outset, we are straight into crisis mode via a phone call between two brothers. One, Jake (played by David Caves), hysterically claims that he has killed his wife: the other, Frankie (Rob Wynn), is trying to make sense of it all. But the lines of reality and fiction are blurred and though Jake has beaten up his wife, Beth, (Emily Hamilton) for allegedly being unfaithful, she is not dead. She has fled to her homestead in Montana, back to the bosom of her dysfunctional family led by her father, Baylor (John Joyce), her mother, Meg (Cara Chase) and brother Mike (Simon Harrison). Unclear as to what exactly has happened, Frankie sets off for Montana to find Beth, with disastrous consequences for both families.
The two actors, Caves and Wynn, who opened the action, set off at such a pitch that I feared it would be impossible to sustain such emotion. However, there is plenty of scope for light and shade over the course of the three acts (and two and a half hours running time) and the relatively large ensemble cast means there are many stories to uncover.
Director Jamie Harper earned the chance to revive Shepard's play by winning the 2006 JMK Award (the eighth year of a scheme to encourage new directors, in memory of director James Menzies-Kitchin who died unexpectedly at the age of 28). It proves to be a timely revival, tackling as it does the issues that pervade the culture of the American mid-West, in particular the individual's attempts to control their environment by protecting what is theirs at all costs. First produced on Broadway in 1985, Harper seeks to revisit it through 21st century eyes.
It is a brave attempt to tackle such a multi-faceted play, with its separate locations and expansive ideas, in such an intimate venue as the studio at the BAC. It meant that the audience were right in amongst the raw violence and inner turmoil of the characters. Harper uses this as a virtue and while it was often effective, the production was not always tailored to suit the space. Some key moments were lost, or at least not maximised. For example, when Beth's brother, Mike, triumphantly brings the errant Jake to book, the audience were forced to strain to see Jake's reaction because he was out of the eye-range of many of them.
The differences between the two families is contrasted in the sparse but effective set designed by Tasmin Ayers. Jake's family seat is represented by poles of uniformly shaved wood, indicating the cheap uniformity of California. The unhewn trees on the far side of the stage indicate a bleaker, harsher existence is experienced by Beth's family in rural Montana.
The set is supported by Yamina Mezeli's sound design. Even before the play starts we are treated to a cacophony of sounds: motorway noise whizzes past the audience's collective ear indicating an unpleasant, repetitive landscape and perhaps the turmoil to come.
Harper is well served by the cast. David Caves gives a strong performance as the troubled Jake. You believe he is capable of murder yet his protective instincts might also have been attractive to the frail Beth. Emily Hamilton as Beth manages to convey a sexual power mixed with a vulnerability. As Jake's sister, Sally, Nadia Albina has the difficult job of explaining key moments in the backstory so that we understand what lies behind his violence which she manages to do with power and emotion.
It is good to see a complex play tackled with such gusto and Harper deserves the encouragement of the JMK award. Shepard is always worth a visit, particularly with the benefit of twenty year's distance.
Playing until 6th August
Reviewer: Bronagh Taggart