£¥€$ (Lies)
Joeri Smet, Angelo Tijssens, Karolien De Bleser, Alexander Devriendt
Ontroerend Goed
Theatre Royal Plymouth
–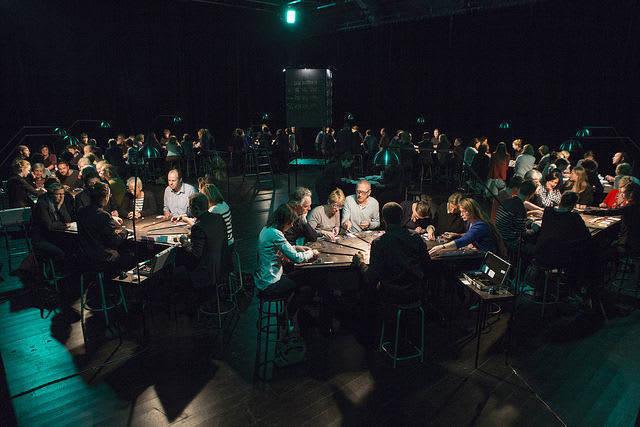 So I went out with £20.00 in my pocket and came home with an IOU for £42 million. Thank you Ontroerend Goed.
The young (actually maturing now) Belgian group is renowned for its avant garde theatre which, love it or hate it, is always thought-provoking if a bit preachy.
And £¥€$ (Lies) is straight out of the same stable.
The lesson is greed, banks and false trust. And the question? Just what is money?
Led into a darkened room one by one and placed randomly at a semi-circular table with up to six strangers, we hand over all our hard-earned cash in exchange for million-pound chips and the opportunity to buy bonds, short options and increased returns. We form alliances with our unknown companions, decide which failing banks will collapse and which will be bailed out, and gamble, gamble, gamble.
A mysterious black-clad 'croupier' chants the mantras offering opportunities on the roll of a die and the stakes—and temperature, so we are told periodically—rise. Taxes are paid, industry and services are financed or left wanting and the future, if we can afford it, looks golden.
More money is printed, bonds lose value, cash is advanced, debts rise, lies and evasions become routine.
This, the 10th collaboration between OG and The Arts Centre Vooruit Ghent, Richard Jordan and Theatre Royal Plymouth, is a fun and interactive lesson in economics and strategy.
Interesting.
Reviewer: Karen Bussell