Lies Have Been Told: An Evening with Robert Maxwell
Rob Beacham
New End Theatre
(2005)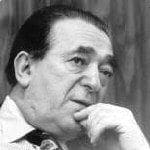 Mention Jan Ludwik Hoch and most will ask "Jan Ludwik who?" but the name Robert Maxwell will trigger views and opinions ranging from disparagement to admiration.
Rob Beacham's monologue play Lies Have Been Told, directed by Alan Dossor, provides an entertaining and somewhat intimate evening with Robert Maxwell.
Philip York's superb solo performance as Robert Maxwell provides some insight into the colourful and "hunger driven" man. By 1947 he is in Britain, starting his first company, distributing German newspapers to prisoners of war up and down the country. He is astute enough to realise the limited "shelf life" of such activity and therefore look for something with long-term prospects.
He drifts into his past, sharing memories void of sentimentality with the audience spicing it with "I know what you are thinking; I can read your bloody minds" or "now I tell you what I did with the money.."
The telephone rings, interrupting the intimate communication with the audience and providing opportunities to see the businessman in the midst of a business transaction. The exaggerated anger and frustrations when attempting to conclude a business deal create a colourful and amusing Maxwell who manoeuvres as if he was the King on a chessboard believing that no one could checkmate him. He failed to calculate the single, fatal, weak square - his incessant ambition.
In 1951 he acquires Butterworth-Springer "nothing underhanded, all open and above board, I made an offer and they were too happy to accept," he tells us.
The importance of the name in the class conscious England of the 1950s was astutely addressed by Robert Maxwell and therefore the first thing that he did was to change the company's name, "to something solid, classical," so he calls it Pergamon!
How did he achieve a multi-million pound Empire and eventually lose it, diving to his death and bankruptcy? Where did it all go wrong? Weaving in and out his family and business life provide a glimpse of the forces driving the self-made giant who was eventually been blasred by his own creation.
In 1939, at the age of sixteen, Jan Ludwik Hoch, a Jewish refugee from Czechoslovakia, escapes with the help of a "glorious' woman. A real Czech Gypsy". Once freedom is gained, it is guarded and manipulated to achieve his big dreams. "A twenty one year old Czech Jew in charge of a newspaper that sold a million copies a day," he boasts.
Later on in the play when he gives his account how he got here, he realises some inconsistencies in his story: "What? What are you talking about? What gypsy girl? Right, right Don't be so fucking pedantic."
His private family life is almost peripheral, ensuring the centre stage is left to be dominated by his dreams and ambition to own a Newspaper. "This time nothing is going to stop me. Nothing and nobody." We share his early rivalry with Rupert Murdoch, the Australian media giant referred to as "a privileged Australian turd" who unjustly receives preferential treatment by the establishment.
He fought the Germans and then the establishment. He has the medals to prove the veracity of his military achievements and a copy of the News of the World to establish the dirty war against him.
Rob Beacham's Lies Have Been Told sets out Robert Maxwell's defence against the lies that have been told in an attempt to set the record straight. Like every good defence, objective evidence is crucial to counter allegations. We, the audience, are the Jury who witness him unfold his past.
The combined efforts of Beacham and York ensure that at the end of an eighty minute monologue, on the balance of probability Robert Maxwell is telling the truth on important issues relevant to his business transactions and of some of his early childhood reality. Despite the hint of scepticism and cynicism, one cannot but sympathise with Robert Maxwell's battles and admire his resilience in the face of prejudice and anti-Semitism.
The milieu provided by the cosy (84 seats) New End Theatre is a fitting ambience for the shared experience of an enlightening and entertaining evening with Robert Maxwell.
Philip Fisher reviewed this production when it transferred to Traflgar Studios 2
Reviewer: Rivka Jacobson