Life is a Dream (La Vida es Sueño)
Pedro Calderón de la Barca
Cheek by Jowl
Barbican Centre
–

Listing details and ticket info...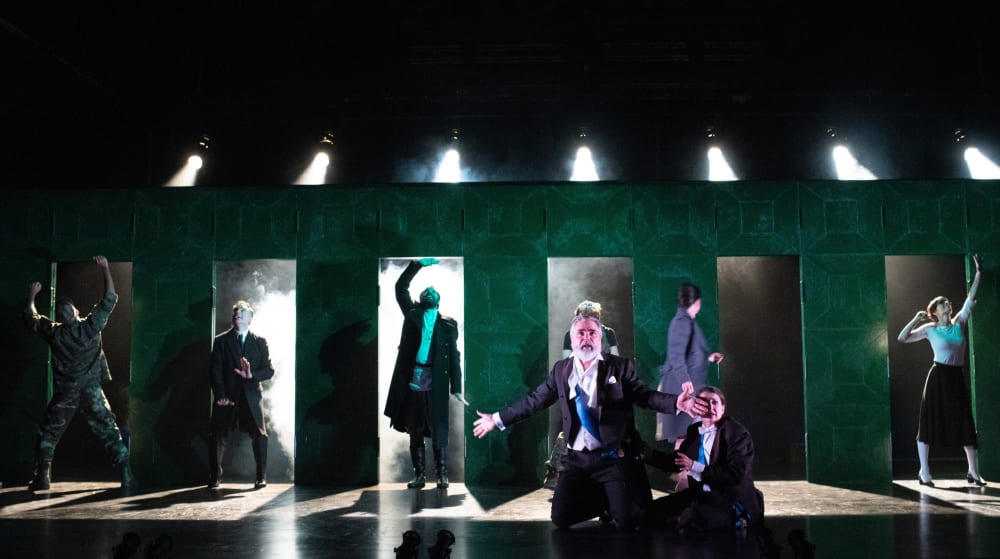 Cheek By Jowl's Spanish-language, subtitled version of the 1636 classic Life is a Dream blends ghoulish hallucinations of conquering kingdoms into eccentric vaudeville absurdity, throwing out musical theatre shapes and jazz hands alongside the clanking of prison chains of a depraved prince rotting in gaol.
Pedro Calderón de la Barca's play probes at the very nature of power and questions whether or not royalty deserves the responsibilities of leadership by virtue of birth alone. All familiar themes for the theatrical age of conception, but given a surreal makeover in this somewhat outlandish production, modernised by directors Declan Donnellan and Nick Ormerod in a Spanish-language co-production from Cheek By Jowl, Compañía Nacional de Teatro Clásico and LAZONA.
This latest version is at times hard to follow, partly due to craning necks up towards the subtitle screen, averting eyes from the actors. Then the heavy-handed slathering of slapstick humour, layered thickly across the drama, smothers some of the deeper, more meaningful messages about power, divine right and who gets the keys to the kingdom.
As Segismundo, Alfredo Noval dominates in a virtuoso performance. He strops on and off the stage and into the arms of the unsuspecting audience, breaking down the fourth wall in full thrust, resembling part-toddler throwing toys out of the pram, part-evil, spitting monster, hair flowing and ravaging his subjects.
On first sight, the feral Prince appears in chains, clinging to a radio, muttering and blubbering, endearing in his fragile state, held captive in gaol for many years. Then, he is given a taste of freedom, and any veneer of humanity or empathy for his plight is shattered as he goes on the rampage, throwing subjects off palace balconies in a raging display of machismo, hunting down women in acts of sexual abuse and endangering civilian life.
Glimmers of humanity break through when Segismundo tries to hug his tyrannical father, yet the King, who dismantles himself from his desperate son's embrace, leaves him to lonely depravity, festering in a cell.
So it takes a leap of faith to believe that, out of the blue, the blubbering mess of Segismundo transforms into a tough new militant who is mobilised by revolutionary armies to topple the King, his father and government from power. But then perhaps this is the point. The audience is being asked to ask to question themselves in terms of what they are willing to believe in. There's plenty of time to try and find answers in this two-hour play with no interval, but not much light is shed as the plot veers between reality and dream-like states.
The sets are a triumph. Palace, woods and prison are interchangable on Ormerod's set, a simple yet ingenious flat green backdrop with multiple swing doors through which various characters appear and disappear. At one point, the doors swing open to reveal characters behind them as if in a display cabinet. There's a pole dancer behind one and Segismundo, locked in chains, arms either side in a crucifix stance, in another.
Goizalde Núñez's Clarin, the courtier clown and the fool of the play, donned in red lipstick and always at the Prince's side to ease the pain of rejection, tugs at the heartstrings in a physically comedic turn that rolls out into a genuinely empathetic performance. As court jester and truth teller, it's from Clarin that the audience can be guided towards any sense of what is dream and what is reality.
Back to real time and watching this play, while there is huge scope to ask existential questions inside this theatrical format, such histrionics make it hard to think deep thoughts as the plot spirals into silliness and exaggerated acts of madness.
Inside the play, there is room for moving dramatic discoveries as the prince turns from madman to loyal subject ruling the kingdom, but the jump is too sudden to believe or make it matter. Instead, the focus of many audience members is one of palpable panic should an actor choose to cosy up in a seat nearby as houselights are turned on full and actors run amok offstage.
Reviewer: Rachel Nouchi