Life Is A Dream
Choreographer Kim Brandstrup
Rambert
The Lyric, Theatre Royal Plymouth
–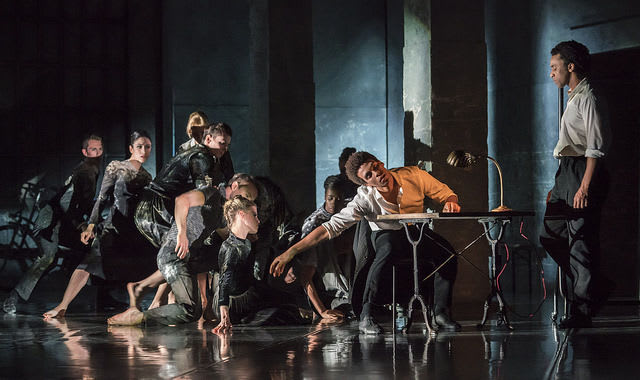 Rambert, synonymous with vibrancy, modernity and beautifully balanced triple bills, surprises with a somewhat gloomy full-length reimagining of a 17th century baroque play.
On the cusp of change—with long-standing artistic director Mark Baldwin leaving big shoes to fill and American choreographer Benoit Swan Pouffer stepping in while a permanent incumbent is sought—double Olivier winner Kim Branstrup has created Rambert's first full-length piece for more than 30 years.
In Pedro Calderón de la Barca's bleak, eponymous play, an incarcerated Polish prince is granted one day of freedom which he spends in a rampage of violence, rape and attempted murder. His subsequent soul-searching questions whether his experiences were real or illusory which defines his view of the world when later released.
Branstrup's 'narrative' piece is set in a dreary rehearsal room where the sleeping director revisits, in his dreams, his construction with his doppelganger manipulating the orchestra and cast in a blur of fact blending into fiction, alter-egos and ghostly re-enactments, shadows and imaginings.
Dancers wander onto the stage from murky corners or brightly lit corridor, checking their nails, dressing or chatting, to take their marks for intense, joyless, repetitive pas de deux, trois and ensemble pieces—each beautifully exercised with the trademark Rambert sinewy precision. Mirrored moments appear, ripple through the company and blend back into the gloom.
But who is who and why remains a mystery. There is no real narrative despite its billing and no character building with which to engage and, until one settles to enjoy the moment instead of reaching for meaning, it is rather impenetrable.
Polish composer Witold Lutosławski's aleatoric back catalogue is raided for apposite scores (played live by a tremendous Rambert Orchestra) uncomfortably dramatising the tensions between darkness and hope so feeding the palpable unease and bewilderment—as does Holly Waddington's carefully studied costume design melding 17th century Spanish and 1950s dress—with the monochrome-palette hybrid result on theme.
The Quay Brothers have created a film noir-worthy sparse space evoking a sense of decay and abandonment furnished with just a bedframe, desk and mannequin as the piece blends the past and present worlds of imprisoned prince and slumbering director. Towering walls allow Jean Kalman's atmospheric low lighting and Tom Wexler's projections to conjure scenes of the wide open spaces beyond the reach of those within the claustrophobic gaol.
Baffling and haunting. Although there is no doubting the skill and perfection of the dancers, I'm voting for a return to the consummate triple bills.
Reviewer: Karen Bussell