Life: Making it in the dating world
Abi Finch and Georgia Orzel
Freebird Theatre Company
Three Minute Theatre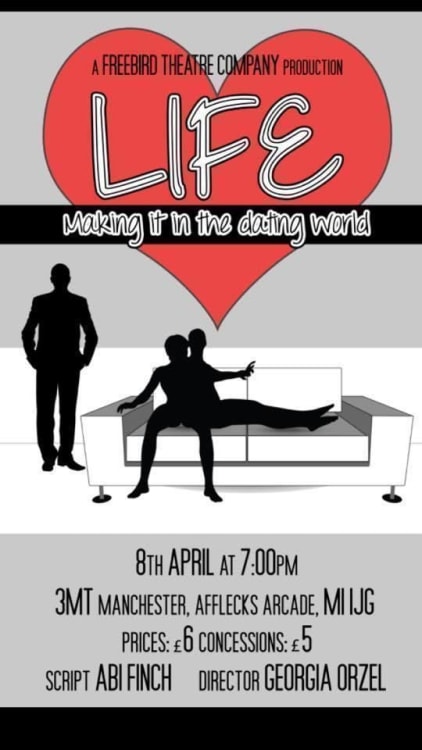 Freebird Theatre Company is very open about Life: Making it in the dating world being a work in progress, using this performance at Three Minute Theatre as a chance to gain some audience feedback before they go on tour.
Life focusses on twenty-something flatmates Holly (Abi Finch) and Molly (Georgia Orzel) and their very different views on love. Whilst Molly dates handsome high-flier Christian (Stephen Costello), Holly prefers casual hook-ups with men she meets online and hanging out with friend Josh (Henry Esdon). The girls' friendship is tested when it's revealed that Holly and Christian have history, while Josh begins to look like more than just a friend.
The appeal of this piece is that its theme is both modern and timeless, uniting mankind's never-ending quest for love with contemporary dating trends such as Tinder. Interestingly, the script includes genuine quotes lifted from messages to the actresses' own profiles (which are funny, but too obscene to repeat here!) However, this production doesn't focus solely on finding romance in the modern age—it's as much about friendships, specifically between the two female leads, and how important they are for our survival.
Abi Finch and Georgia Orzel are a strong team comically—Finch's outspoken, larger-than-life Holly perfectly plays off Orzel's nervous, straight-laced character. They even pay tribute to one of comedy's greatest double acts, Morecambe and Wise, by doing their own version of the famous 'Stripper' breakfast time sketch.
Finch's script has some very funny moments—unfortunately some get slightly lost in hurried delivery, but when the cast are more confident and relaxed in performance these gags will shine out more clearly. Many of the scenes will be particularly familiar to any girl who has ever lived in shared accommodation, from Holly forcing a miserable Molly to empower herself by dancing to Beyonce, to the stony cold silence as Molly clears up the mess in the flat around her oblivious friend.
Sometimes Life veers towards cliché, but it still feels authentic thanks to believable performances and a good rapport between the cast. The title could also be reworked to more accurately reflect the play's focus on female friendships within the dating world.
Reviewer: Georgina Wells