My Life With the Dogs
NIE
BAC
(2008)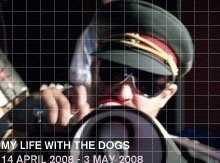 It is always exciting when a production is brave and takes risks and whilst I would never discourage a company from doing this, unfortunately these risks do not always pay off.
Through a variety of media My Life With the Dogs explores the story of a young Russian boy, Ivan, who ends up on the streets one night whilst his drunken mother is preoccupied with his "Uncle Boris". Whilst on the streets he is taken in by a pack of dogs and over a period of time he slowly develops canine attributes of his own.
This devised piece uses its imagination and in the same breath asks the audience to do the same. We are told to forget that we are in South West London; to forget that we are seeing a 46 year old actor from Manchester and instead see a four year old boy from Russia. Robert Orr as the young Ivan made this easy with his wide eyed innocence and sense of childish adventure.
This production was almost a text book illustration of a "post-modern" performance with its pastiche of influences and it was here that the problem lay and was ultimately its downfall. Guitars, an accordion, a piano and drums (made out of upturned plastic bins and a silver tray) produced the inventive soundtrack which initially worked well. With the use of a megaphone to enhance and distort the sound they were the radio, the TV, the buzzer on the door. Fans with shredded paper blowing in front of them created a snow storm whilst coloured lights, operated by the performers, created the illusion of a shop window. However this overdose of theatrical devices eventually became numbing and unspectacular.
There was a similar dilemma with the performance style. At first I was drawn in by the improvised nature of the piece. I enjoyed the performers casually switching between "character" and "actor"; acknowledging the audience with funny asides. The trick is knowing when enough is enough and eventually the piece began to feel as if we were watching a rehearsal as the performers indulged themselves with scenes that stretched on and on as they played for laughs with their ad-libbing.
As is often the danger when the director (in this instance Alex Byrne) is also in the piece it can lack that vital third eye and sadly My Life With the Dogs is a prime example of that.
There was little structure and the aim of the piece was completely lost. Did they want to portray the harshness of contemporary life; to dismiss notions of the Russian stereotype; or simply show the plight of a young boy? Perhaps they wanted to communicate all of these ideas but it is hard to know as unfortunately the message vanished in a whirlwind of theatricality.
Running until 3rd May
Reviewer: Rachel Sheridan