lifeguard
Adrian Howells
National Theatre of Scotland
The Govanhill Baths, Glasgow
–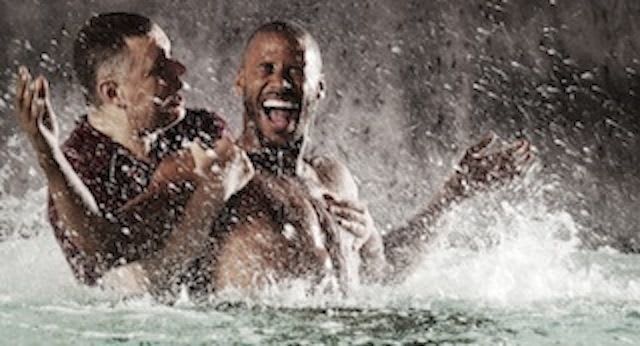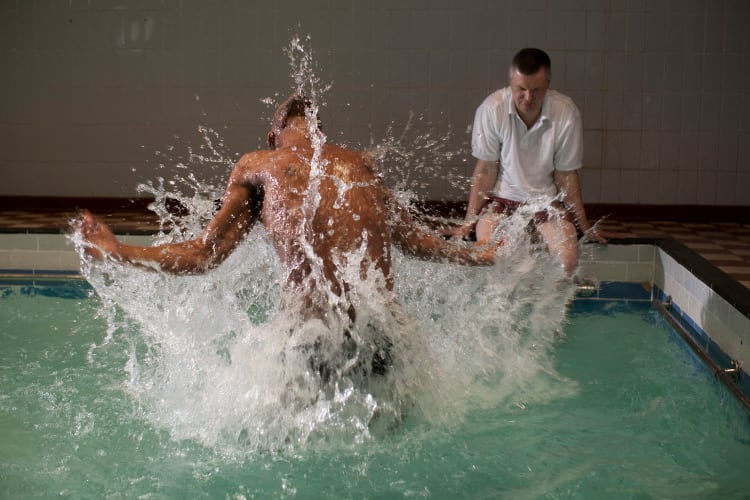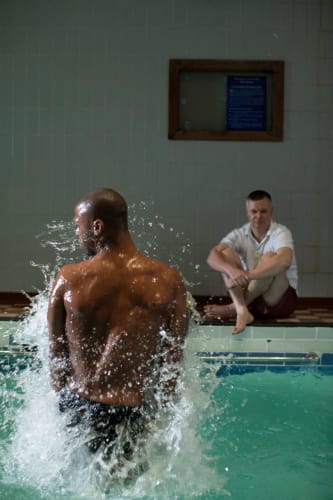 The Govanhill Baths has reopened, after a decade of hard work by the local community, and this piece by Adrian Howells celebrates that achievement as well as a more general celebration of the act of swimming.
The audience sits around the pool having changed into swimwear and been given towels and t-shirts to keep warm. The Edwardian baths are beautiful from the outside and inside, not the easiest place to heat, despite the clear October night the temperature is pleasantly warm.
Before Howells enters as the lifeguard, there is a series of videos projected onto the pool from above of different people swimming lengths. The production does not dive into the deep end but soothingly introduces the audience to the idyllic pool. Howells as the lifeguard takes his time preparing the pool.
This initimate teaching pool doesn't stay calm for long; there is plenty of swimming, diving and splashing thrown into the mix. Ira Mandela Siobhan, a dancer, provides some very graceful swimming sequences and a different perspective on the experience of swimming baths.
The piece looks at the joys of swimming and it mentions one of my favourite natural pools—the waterfall pool by Kelburn Castle—but it also takes in the fear of swimming and the sickening experience of drowning. The pool itself is completely clean but we are sat in a delapidated old building that is still in the process of being restored.
Siobhan isn't all glistening limbs and lutrine dives; he has several speeches, often darker in tone than Howells's, making this not just a celebration of swimming but also delving a little deeper into our relationship with water.
Aside from Howells's jolly, middle-aged man and Siobhan's athletic young man, an older man who learned to swim at the baths and a young boy who is currently learning to swim there complete two lengths of the pool, providing a very simple, emotive ending to the piece.
The real ending is the welcoming of the audience (voluntarily of course) into the pool, though arguably this feels more like a way to show our appreciation as there isn't a proper bow at the end of the show. It does feel quite special going into the water after experiencing Howells's piece, particularly with everyone else jumping in too: a sense of community.
You don't always realise what you've got till its gone, but thankfully this local community, against the odds, has saved a very special place. It has gradually come back to life: the main pool is still empty but it has been used for a film and is currently displaying an exhibition by local children. Howells, with his unique style of theatre, really captures this very significant regeneration.
Reviewer: Seth Ewin