Life of Pi
Adapted by Andy Rashleigh from the book by Yann Martell
Twisting Yarn
Greenwich Theatre
(2007)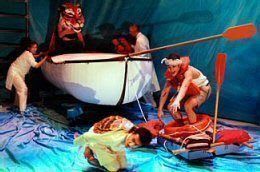 This is the third tour of Life of Pi that the producing arm of Bradford Theatres has sent out since they acquired the rights to the book that won the 2002 Man Booker Prize, but BTG seems not to have reviewed it before. (Sadly we haven't So many shows, so little time! Peter) I caught up with it in its final days at Greenwich at what may be the end of its life, and that of Twisting Yarn, because Bradford council has withdrawn the company's grant.
If the council does not change its mind - we are talking about only £144,000 - or replacement funding does not come from another source, a company which has now served Bradford's young people and toured the rest of the country for ten years will disappear.
If this production is anything to go by they will be sorely missed. A story that involves a boy in the middle of the Pacific in a lifeboat with a tiger, a hyena, a zebra and an orang-utan is not the easiest to put convincingly on stage. Director Keith Robinson and designer Naomi Parker have done so with considerable skill (and probably, I guess on a miniscule budget). Bright sari cloth hangings and a huge decorated umbrella create a colourful Pondicherry, cage bars make much more than a zoo, blue swathes of cloth a heaving sea, a blackboard, a doorway, a crucifix mark a new location, all wheeled in choreographed movement by the cast, so establishing a pattern where having actors moving the isolated boat in the Pacific vastness becomes accepted.
A warm atmosphere is established from the start, with small drums on stage which four of the six-strong cast begin to play as soon as they come on stage, joined by the others carrying two larger drums, before Tony Hasnath's Pi begins to tell his story.
Pi - full name Piscine (he's named after his uncle's favourite swimming bath in Paris) - is the second son of a Hindu zoo-keeper. We follow him to school, where he invents Pi to stop the other kids calling him Piss Patel, and through his exploration of religion as he becomes Christian and Muslim as well as Hindu. Then we set sail with him and his family and some of their animals to emigrate to Canada. Their ship sinks mid Pacific with Pi and four animals, two of them carnivorous, the sole survivors.
Now the other actors, sometimes speaking as their dead characters, join Pi as manipulators and joint narrators.What could easily become a tedious static situation is enlivened as they turn the boat and move the raft that Pi later builds. There is a shadow sequence for one part of the story and its later stages are told in retrospect by a recuperating Pi dictating to a doctor, which perhaps ensures that smaller children in the audience know it will all turn out all right for him and not get too frightened. This is a format, since Pi must give two versions of his story, the invented second version more macabre but without animals. Both are acted out as they are told.
Playing his family, the animals and all the other characters are Taresh Solanki (a splendid tiger), Melody Brown, Mark Pearce, Sanjay Shelat and Royce Ullah. They do a great job. An enthusiastic young audience clearly identified with Hasnath's engaging Pi, though, sitting right at the back of the theatre, I found some of his quieter moments difficult to hear clearly, though juvenile ears probably did not have that problem. The animal masks and costumes are effective and allow the actors physical freedom and the director has welded this cast into a fine team. I think the sea sequence could be tightened up a little but this is a production that deserves a continuing life until many more young people have seen it.
If Life of Pi is a typical example of this company's work then Bradford Council are vandals not to continue their funding. This show, especially, reflects the diversity of Bradford's population and is a life enhancing, enlightening experience for its young audiences. If you think the company deserves saving you could support a petition put on line by one 11-year old in their Bradford audience by going to www.petitiononline.com/STY/petition.html while on www.savetwistingyarn.piczo.com you can find e-mail addresses of Bradford councillors to whom you can express your indignation.
"Life of Pi" ends its tour at Greenwich on 12th May 2007
Reviewer: Howard Loxton