Life of Riley
Alan Ayckbourn
The Stephen Joseph Company
Yvonne Arnaud Theatre, Guildford, and touring
(2011)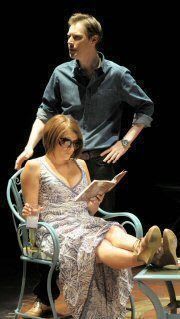 Ayckbourn has commented "if you write a play with all light you get snow-blind". In this, his 74th play, you are more likely to become fogbound. There is very little 'light' with these dysfunctional characters and their tangled relationships, all being deftly manipulated by the unseen George Riley. Ayckbourn has frequently peopled his plays with unseen characters, around four hundred by his reckoning and some very memorable, but this is the first time that the invisible person has been the principle protagonist.
On stage all at once are three separate gardens and a farmyard with the action moving smoothly between each one, and, in the first, a rather lacklustre doctor Colin (Kim Wall) is having an argument with his overbearing and very correct wife Kathryn (Liza Goddard) about the play they are rehearsing - one of Ayckbourn's own. This is the sort of marital bickering recognised by the Guildford audience judging by the knowing chuckles increasing as Kathryn, with practised ease, wheedles out of her husband the news that good old George Riley has only months to live. She wastes no time in spreading the 'confidential' news and all the friends, or at least all the women, rally round to help. It seems that George has some fascination for women, young and old alike, and the main reason is that he really listens to them making them feel important in his life, something not forthcoming from the husbands. All men please note!
The time is the present, and these days of infidelity and casual relationships are well represented here with George seeming to have had a hand in all of them.
Couple number two are George's best friend Jack (Ben Porter), who has a girlfriend on the side, and his wife Tamsin (Laura Doddington), dressed 'Footballer's Wife' style as she totters about on impossibly high heels and drives a flashy car. Even their sixteen year old daughter, indulged and spoilt by her adoring father, is infatuated. The third couple are taciturn, strong and silent farmer Simeon (Jamie Kenna) whose wife has run off leaving him with a young son, and George's wife Monica (Laura Howard) who has moved in with Simeon, but is experiencing some conflict with the son. The scene is set.
The three women bent on looking after George are astounded to find that they all have a history, each believing themselves to be the only one, and competition and rivalry are fierce, intensifying when he separately invites all three of them to accompany him on his last ever holiday to Tenerife. The final outcome is totally unexpected.
Expertly directed by Ayckbourn, all performances are excellent with gestures and expressions giving depth and meaning to their characters which at first appeared slightly stereotypical. Finally, at the funeral, Ayckbourn voices the eulogy in the role of the vicar - the one person who didn't know George at all.
The play is quite intriguing with the question of how can it all be resolved, but laughter is sparse and intermittent in this tragi-comedy which left me feeling strangely unsatisfied.
Touring to Bath, Cambridge, Malvern, Brighton, Richmond and Windsor
Steve Orme reviewed this production at the New Vic, Newcastle-under-Lyme
Reviewer: Sheila Connor