Lifted
Sara Shaarawi and Henry Bell
Triad Pictures
theSpace @ Surgeons Hall
–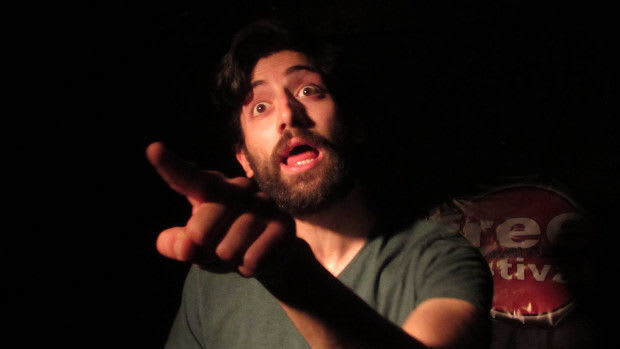 The play Lifted is set in a Glenrothes police interview room. A young Asian male Anwar (Ikram Gilani) sits in a chair. He has been detained by police. He doesn't know why and the interviewing officers from out of town are in no hurry to tell him the reason for his detention. But they do want to know about his friend Moody who has come from Kuwait to study in the United Kingdom.
The show switches between two monologues. In one, Anwar is responding to questions and comments from police. In the other, we hear his thoughts and commentary on what is happening.
Ikram Gilanihas an engaging energy as Anwar describing the way he met and befriended Moody, his friend's love of England, acting and certain songs.
Anwar also talks about his own attitude to drugs, religion and being Asian.
He is clearly nervous about why he has been lifted but is still ready to respond with comments that irritate the police such as asking if they are keeping him so long because they need the company: "Grindr not good enough for you?"
When they refuse to give him a lawyer, he warns them that those lawyers are, "gonna middle class the fuck out of you."
He wonders if they are after him for selling cannabis or regarding him as a security threat. They even question details of his personal relationship with Moody.
The monologue is well performed, believable and often amusing. What is said is naturalistic and at times quite imaginative. It also touches on complex issues about identity, prejudice and immigration. But it only touches on the issues and none of them generate any dramatic tension. This makes the content seem static, something that is emphasised visually by the actor only moving from his seat halfway through the show and then simply to move a couple of paces before sitting down.
The drama is in Ikram Gilani's delivery. It will hold your attention but the content consisting mainly of descriptions of Anwar's encounters with Moody may not.
Reviewer: Keith Mckenna