Light Show
Tim Webb
Oily Cart
Arts Depot
–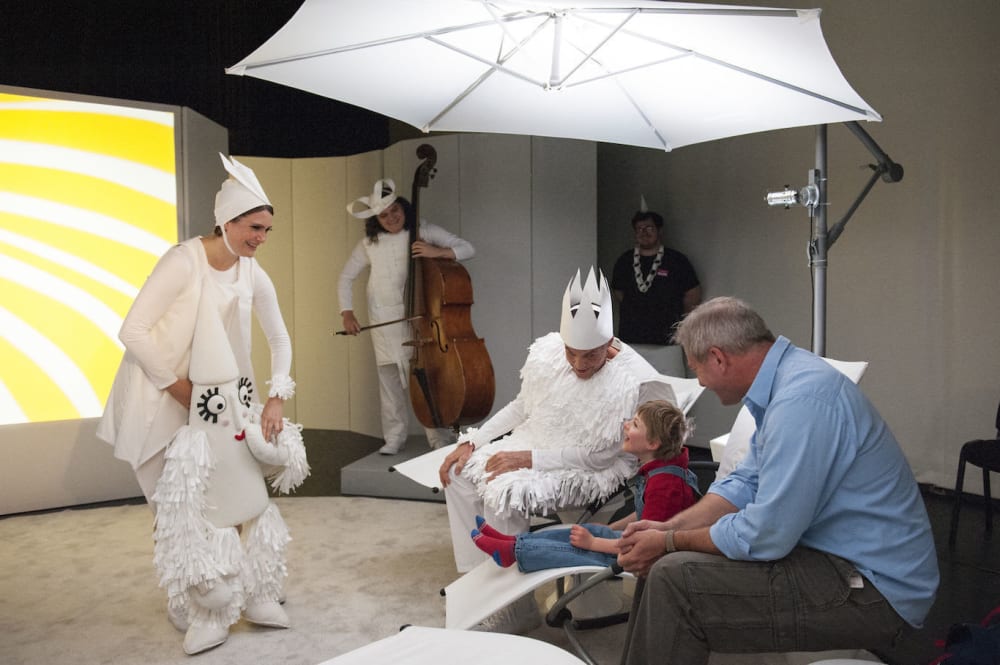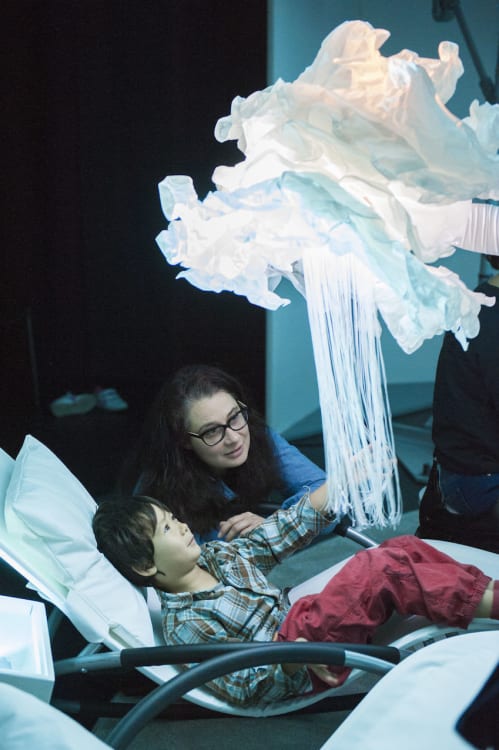 Oily Cart's new show has sparkling lights and shadow figures, it goes from bright to shadows and offers a magical box of lit-up moving marbles but, despite the title, it isn't just a light show. It is also a wind and weather show, suggesting them through a sequence of sensations designed to stimulate and please the audience for which it is so carefully tailored.
There are two versions of the show embracing an age range from 3 up to 11. One is intended for those with autism and the other for children with profound and multiple learning disabilities. I saw the former.
At a public performance, unlike those occasions when the company performs in schools or elsewhere by private arrangement, the cast have no prior knowledge of whom their audience will be, what range of autism will be present, nor the age, ability or personality problems of individuals among them.
Although schools will have preliminary information and members of the public can find material on the company web site to tell them what to expect so that parents and carers can prepare their children, the show is preceded by a familiarising prequel that begins quarter of an hour or so before the performance time.
Outside the performance area, at this venue on the upper level outside the theatre, a special space is created marked out by a circular carpet under a white canopy and ringed by white banners. Here, comfortably settled on the floor, the children are introduced to elements of the show and meet some of its performers.
They are all dressed in white and their clothes and hats look as though they might have been made from paper with layers of fringes: a lady has a hat that is covered in paper flowers, another has a dart like crest atop of hers. Paper is a noticeable theme and there are brightly coloured paper planes to fly.
It is here the audience get to meet Baz, a child-sized puppet figure with big eyes and bright red lips. He's like a big cuddly toy and can indeed give good cuddles but his speech isn't easy to understand so the lady with the planes does some explanation.
When the audience has all gathered and become relaxed about the situation, Baz leads everyone through to the theatre where another space has been created around a white carpet enclosed by white screens with white umbrella-like canopies over beautiful white and chrome rocking chairs arranged in an arc facing a panel on which images and silhouettes can appear.
The children sit or lie in the rockers; there are white pedestal stools for carers to sit beside them, a few more chairs further off for other accompanying adults or observers. At one side, a white-garbed bass-player stands on a low rostrum, creating a relaxing mood with his playing.
Now we are all at the seaside and once everyone is comfortable the performers take paper-cone trumpets and begin to blow gently through them with murmurs and whistles that sound like the sea. There's an orange sun on the screen and there's a song about the beach and soft velvet pads are held to cheeks to feel the sun's soft caress.
But now Baz is too hot. A white box is brought in and from it is taken pink fans to create cooling breezes. The performers pass the first two on to two carers then draw out more until every carer has one with which they can join in. One little girl gets frightened as a fan blows air at her. Her carer brings her back to observer seats and grandma where she becomes calmer.
When the fans have been collected and put back, with a stylized gesture Baz becomes worried about sunburn. There is sun lotion for everyone, feel it rubbed into your skin. One performer is careful to gently involve the child who has been taken out of the circle putting lotion first on the adult who is holding her. It is typical of Oily Cart's work that this girl gets discrete reassuring attention so that before the end of the show she is back in the circle and reaching out her hand to make contact with the performer.
There are papers towels now, being waved in the air, ready to wipe off any surplus lotion not rubbed into the skin.
A silhouette on the screen looks like a big box and then Baz; soon he is pushing it on stage. A performer finds something within it that could be a huge paper flower, though with strings hanging down that makes it look more like a jellyfish.
No! It's a cloud and the children feel the gentlest of rain touch their faces. Now it gets darker and another cloud, a purple one, is produced from the box. This one is a real rain cloud fully able to soak you and it is spraying water right at everyone. Another performer produces a brolly and soon there is a battle ensuing between squirt cloud and umbrella.
"When you see a cloud: is it going to rain?" the audience is repeatedly asked. Whatever their answer, they may still get wet. The cloud man goes off behind screens, noisily running and crashing before coming back for some more squirting.
It is fun: a game that goes on until there is an even bigger box brought on. This one has more boxes inside it, one for each child. In each, ultraviolet light shines through a layer of translucent beads or marbles while a mirror reflects their pattern and the child who is holding it or for whom it is held.
The cloud man doesn't have his cloud hat now and folds himself a paper one. But time is running out for next comes a mirror with little lights all around its edge. It is held so that each child in turn can see himself or herself as they are individually sung to the song of just their name. When each has been serenaded with their own special tune, it is time to say good-bye. One by one, the performers leave with a little dance, passing in silhouette behind the screen, and then they are back again to tell us "Finish!"
This isn't a review: it is an attempt at description. How else to present the simplicity with which Oily Cart operates. But of course behind this simplicity is a great deal of complexity in developing such sensitive material, so much due to the skill, experience and understanding of the performers to respond on the moment to whatever reaction a particular child (or carer) presents.
Light Show is directed by Tim Webb and designed by Claire de Loon with music by Max Reinhardt and Adam Storey. The performers are Griff Fender, Ellie Griffith and Joanne Davies with Adam Storey on double bass.
It's a show with minimal dialogue—a few of the simplest words, gently created from music and movement, touch, sight, sound and smell too. Its appreciative audience may not believe it but Oily Cart doesn't always achieve every aim that it sets itself—always striving to provide a better experience. What is certain is that they make a huge difference, bringing new experience and joy into lives that can be far from easy.
You can find some examples of Oily Cart's work, both for special audiences and for the very young, on YouTube and more information about the company and its other performances is on its own web site.
Reviewer: Howard Loxton