Some Like It Hotter
By Richard Hurford
The Watermill Theatre and Oxfordshire Theatre Company
ACE Space, Newbury, and touring
(2011)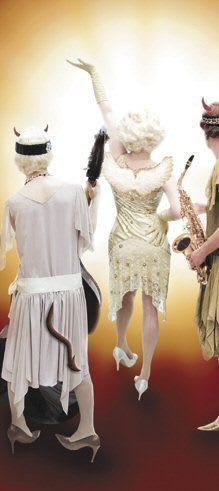 The Watermill's Some Like it Hotter has embarked on a four week rural tour to village halls and community centres, bringing theatre to the people in the countryside who would not normally travel to towns, and is most commendable.
They have a real hit on their hands with this new fantasy musical comedy that is based on the classic black and white Hollywood movie Some Like it Hot with the iconic team of Marilyn Monroe, Tony Curtis and Jack Lemmon.
The play is set in the great studio lot in the sky where the screen idols give the dearly departed an opportunity to participate in the, "some like it hot funeral experience."
Charlie (Patrick Bridgman) has been assigned to the 'experience' on his way to the after-life. He has been a fan of Marilyn Monroe since he was a nine-year-old child and always dreamt of playing in the all girls' band.
Paul Matania is splendid as the suave womaniser Tony Curtis and is a perfect foil for T J Holmes' affable Jack Lemmon. Together with Sarah Applewood's delicious portrayal of Marilyn Monroe as Sugar Baby they are determined to give Charlie the best time of his life - or should that be death?
So the film is reacted with tremendous verve and fun and, before he knows it, Charlie is in a dress and high heels along with the others as they head off on the train to sunny Florida.
There are some razor sharp wisecracks from these talented actor/musicians with some exuberant musical numbers such as 'running wild' and 'by the sea' all performed with pizzazz.
But all is not well since head office has made a mistake and Charlie has to go back - "You've got your breathing license back" - but he really wants to stay.
The scenes in Florida with Curtis playing the millionaire and Lemmon as Daphne are hilarious and just for a moment you can imagine that you are watching the original film; Sarah Applewood was the quintessential platinum blond Marilyn Monroe but all the characters were perfectly captured.
This was a glitzy, sassy show with a delectable art décor set designed by Jane Linz Roberts and Karen Simpson's direction was spot on.
Some Like it Hotter is the perfect antidote to those cold autumn evenings.
Tours to Clair Hall Haywards Heath 3rd Nov, Theatre Royal Margate 5th Nov, Braintree Arts Centre 6th Nov, Old Town Hall Arts Centre Hemel Hempstead 8th Nov, East Botolph and Claydon Village Hall 10th Nov, Chilbolton Village Hall 12th Nov and The Watermill Theatre 15th-19th Nov.
Reviewer: Robin Strapp