Lilies on the Land

The Lions Part
Corn Exchange Newbury
–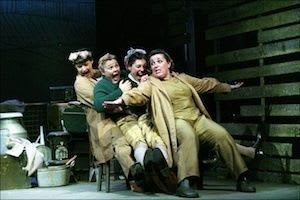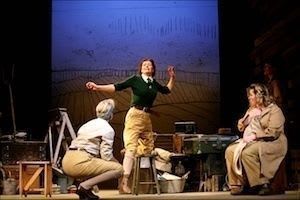 The Lion Part's production of Lilies on the Land is a nostalgic trip to the supposedly idyllic countryside during the Second World War where thousands of women signed up to the Women's Land Army to help till the land and keep Britain supplied with food.
The company placed an open letter in Saga Magazine asking for reminiscences about their experiences and received over 140 letters and they carried out extensive interviews with some of the remaining Land Girls, so in essence this is their stories which adds poignancy to the back-breaking, endless work they endured whilst working on the farms.
The four highly talented actors portray very different characters. Kate Copeland is splendid as Margie, the naive northern working class lass. Kali Peacock brings a wonderful comic touch to the dreamy Peggy with the impressive Catriona Martin as the vivacious Vera and stately Sarah Finch as Poppy, the rather upper-class girl who soon learns how to muck in with everyone else.
All wasn't as rosy as the recruitment posters had suggested. In fact life was hard: long hours, a hole in the middle of the field for a toilet, learning how to ride a tractor and plough a field, the endless hoeing and potato lifting, grumpy farmers to contend with and the horrors of cleaning out the pig sheds.
With the arrival of the American GIs, life takes an unexpected boost with weekly dances to the music of Glen Miller and Duke Ellington to look forward to and a glimpse of normality and fun in a very grey period. There are also dark moments with some unwanted sexual vexation from randy farm workers.
All of these stories are lovingly told, interspersed with music from the time beautifully sung by the cast. The rendition of "Silent Night" with the Italian and German POWs joining in brings a tear to many an eye.
There are some joyous funny moments such as the girls warming their icy hands on the cow's udders or acting out a sketch with two of the cast becoming Daisy and Buttercup; there is a tangible camaraderie amongst the girls.
Jane Linz Roberts's atmospheric design creates the interior of the barn with a detritus mix of tin baths, metal trunks and cases and an assortment of farm tools and is strikingly lit by Michael Scott with music and sound by Peter Readman.
Director Sonia Ritter has created a powerful, moving and compelling production that is a fitting tribute to this 'forgotten army' who, "didn't make bullets but grew food."
Reviewer: Robin Strapp