Lilly Through the Dark
The River People
Tristan Bates Theatre
(2009)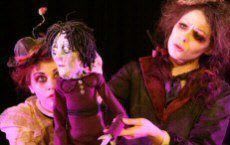 In a world of prowling Tim Burton-esque creatures, on the pain of losing her father, young Lilly follows him into Death to try and return him to life. Beautifully puppeteered by a cast of four (all in white face and the obligatory distressed Victorian chic), The River People build a spellbinding atmosphere of the delicate, dark macabre with a child-like fascination for story-telling.
On a set of piled-high books which they open, unfold of and delve into, this is also a beautifully designed and conceived piece. The small puppet Lilly takes matters into her own hands and with the bright red ribbons of blood flowing from her wrists (a profound image that really made an impression on me) she leaves the living world for a land of half-death. In her quest she swims in the dark river to death, meets Mother Moon, 'hangs out' with two very funny hangmen (a real highlight - among many! - of the show) and finds a lost girl, collecting stories. All is told with a measured reverence and enchanting characterisations, which would fill any young mind with delight and curiosity. That's not to say this isn't a fantastic story for adults also, but some children in the audience on the evening we attended would definitely have added to the building magic. The atmosphere was also wonderfully created by the writer/director Edward Wren playing the mandolin throughout and accompanying the singers.
Having seen this show in Edinburgh during the festival and absolutely loved it there, inevitably I was anticipating the various ingenious tricks that The River People pull out of their sleeves. However it's still a gem of a piece, and highly recommendable both for its charm and fascination, but it does feel misplaced in the Tristran Bates Theatre. Something about the setting in the Bedlam Theatre in the summer placed this piece perfectly on the stage in front of us, and one remove away, whereas the studio setting doesn't quite do it justice. It's obvious that the set is showing some signs of wear and tear, but that shouldn't put you off seeing it. I look forward to what The River People do next and can't wait for what their tantalizing imaginations come up with in the future.
Robin Strapp reviewed this production at New Greenham Arts in 2010
Reviewer: Sacha Voit