Limbo: The Twelve
Music by Johnathan Bauerfeld, book and lyrics by Casey Kendall
Royal Conservatoire of Scotland and American Music Project
Gilded Balloon Patter Hoose
–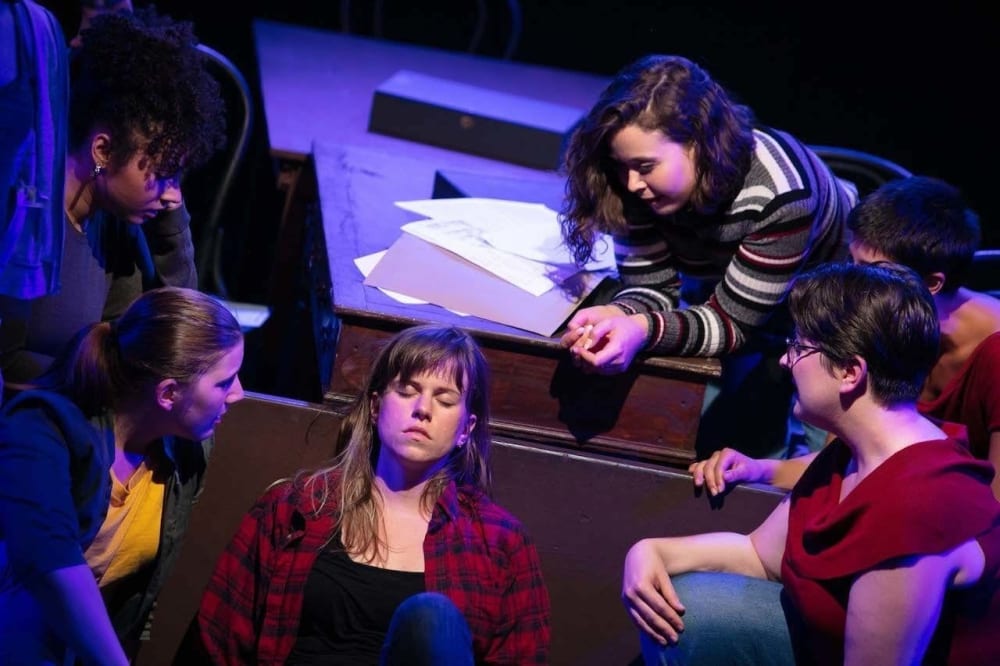 Limbo: The Twelve is the second musical from the Royal Conservatoire of Scotland and Northwestern University.
It's a gritty, powerful piece. Tess Butler (Sarah Olive-McStay) is found on the streets dying from a drug overdose. Twelve people are gathered together to decide whether or not they should intervene in her death and save her life. Each member of this 'jury' has been a part of Tess's life, be they family, friends or people who have merely come across her.
They all have memories that they would like to use as evidence. As each member recalls their life with Tess, her passionate and tragic story is revealed. But they all have to vote to decide whether Tess should live or die and it has to be unanimous.
We discover that, following a car accident in which her father died, she became hooked on opiates to relieve the pain of a shattered leg and, when her prescription ran out, she bought them illegally from her friend. As they vote for the first time, it's not looking promising—even her mother has voted against.
All the jurors have individual stories to tell. We learn about Tess spending a period in rehab at Green Oaks 'hotel', her relationships with family and her secrets. But will this be enough to save her and can the influence she has had on others change their opinion?
The talented cast bring a raw emotion to this story and we begin to really care about Tess and whether they will vote for her to survive.
Jonathan's Bauerfeld's emotive music and Casey Kendall's book and lyrics bring a potent spotlight on America's opioid epidemic and deliver a hard punch. Highly recommended.
Reviewer: Robin Strapp