Celebrating Linda Smith
The Friends of Linda Smith
Crucible Studio, Sheffield, and touring
(2008)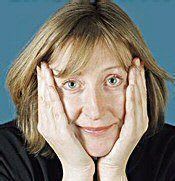 Linda Smith, well-loved broadcasting comedian, died of ovarian cancer in 2006. This show, celebrating her life, is put on by a group of friends, all in the theatre, who worked with her, loved her and supported her over much of her 48 years. The theatre programme provides information about her undoubted skills, her wide interests in humanism and in charitable actions and offers opportunities for the audience to contribute to Ovarian Cancer Action, supporting research into this lethal, and often difficult to diagnose, condition. £1 of each ticket sale goes to the charity.
But it is also intended to be a night out for theatre patrons, who pay the rest of their money to be entertained. How successful is the show in that respect? Sad to say, not entirely so. The women are good, with Kate Rutter presenting an excellent programme of highly entertaining anecdotes and models, such that it was difficult to tell whether they were based on Linda's material, her own patterns of similar styles, or a mixture of both. She used the microphone well, waited for the laughter to die back before she posited the crunch line, and was a joy to listen to.
In contrast, Warren Lakin read - yes, I put read - much of his material in a way I can only describe as someone mocking the amateur player who cannot read his lines effectively - but as far as I could judge it was for real. He described himself as Linda's partner, but said she rejected the term because she thought this sounded as though they were in accountancy together. He called himself her boyfriend.
The third member of the group - we never saw the fourth, Elb Hall as he was signalled as the Director stuck at the back out of sight - was Mike McCarthy. He stuck the microphone in his face, like a noisy pop singer, with a similar result; his words tended to be distorted, and sometimes indistinguishable. But in one of his sketches, he was OK as Columbo, the cigar smoking Lootenant, though his mac was far too respectable.
Two brief readings of Linda's monologues added little to the evening, but it was redeemed by excellent singing from Barb Jungr, born in Rochdale and growing up in Stockport, but the programme revealed no other information about any possible connection with Linda. She provided a versatile selection of stunning songs, sung with excitement and energy, supported on the piano by Hilary Cameron, who also added a brief vocal accompaniment at one stage. It is the intention that one of the two guest singers will join the four for each performance.
The importance of the causes encouraged by these friends of Linda Smith is without question, and the two main women participants made for a worthwhile entertainment.
In Sheffield until 5th April, then touring to Stratford Circus, Hull, Chipping Norton, Swindon, Winchester, Worcester, Durham, Leicester, Middlesbrough, Hebden Bridge, Manchester, Maidenhead, Brighton and Canterbury.
Reviewer: Philip Seager