Lines
Pamela Carter
The Yard
The Yard Hackney Wick
–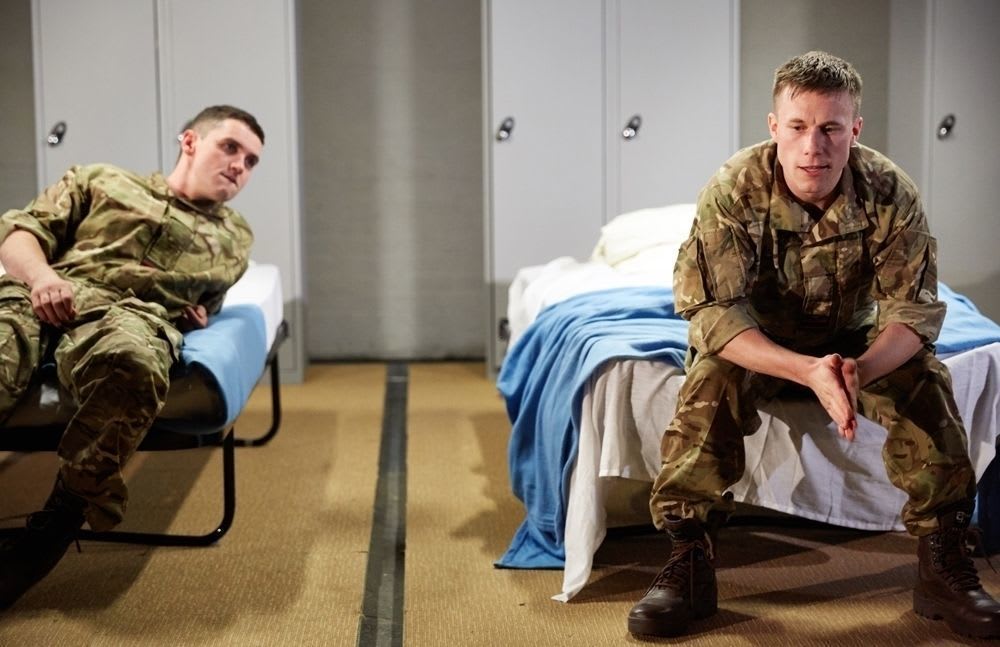 Pamela Carter's play Lines takes place in the sleeping accommodation of four army recruits during the early period of their training. It shows us something of their developing relationship as they prepare themselves for war.
The violent nature of soldiering is something that is always on their minds. As one of the characters comments, "peace is just a gap between wars." To underline this point, projected on the wall behind the stage is the uncomfortable fact that 2015 is the first year in the last one hundred when British troops have not been engaged in combat.
We see how the camaraderie they develop and the stories they tell are ways of coping with that fact and preparing themselves for its inevitability. Three of the four are white. One of the four is gay and when another group of soldiers mock the gay recruit, they show themselves as a group willing to defend him.
We only hear about the army beyond the four through an occasional offstage voice and the second-hand accounts of the young men. This can give a humorous slant to what they have heard. For instance, recruit Mackay played by Robbie O'Neill says they have been told that God tells us you must not kill but that you won't go to Hell if you obey international law.
The same fear that makes them defend each other is also the fear that leads them to distrust and consider driving out the recruit they regard as the weakest. For them, it is better that happens before combat than be let down in the heat of battle.
It also shows how unreal the lads' understanding of war and the enemy they fought. In the second half, they tell each other heroic stories of their own imagined deaths in the style of Hollywood movies. They laugh at what has been said to chase away the fears. In the semi-darkness on the edge of the stage as they speak stands the ghostly figure of the absent 4th recruit.
This is a thoughtful play with convincing performances from the four actors. We do see some character development of the four, particularly of Perk (Tom Gill), a troubled, conflicted character, and Valentine (Ncut Gatwa), the black recruit who is always just that too eager to prove himself the perfect soldier.
However, I couldn't help but wish that the moments of drama and the social themes had been a little more developed. It also seemed a shame that the dramatic tension build of the first half was followed by a very low-key if poignant second half.
Reviewer: Keith Mckenna