Link Link
Isabella Rossellini
Queen Elizabeth Hall
–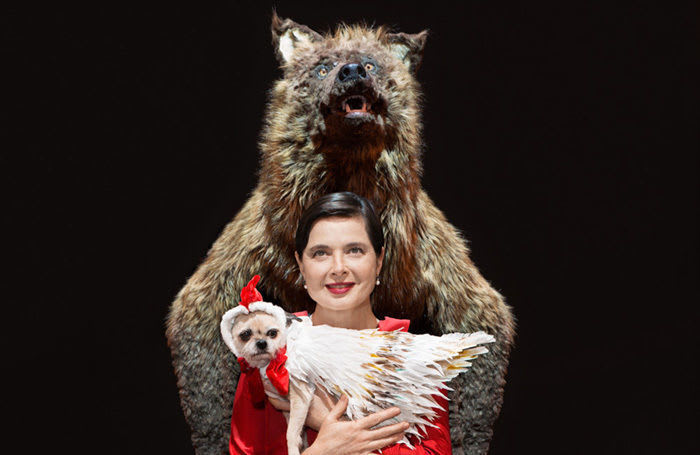 The only way to describe Isabella Rossellini's stage show Link Link is as a lecture, a multimedia lecture, but still a lecture, a lecture that considers such topics as whether animals have souls and can they communicate, love, learn or solve problems; a very different kind of lecture from that you usually get from a university professor.
Rossellini is well qualified to talk on these subjects for she's been a student of animal behaviour at Hunter College, New York. She knows her stuff and finds her own ways of putting information over with video clips and practical but idiosyncratic demonstrations. She doesn't shy away from long words but doesn't bore with unexplained jargon and when she comes out from behind her lectern it is a relaxed presentation, laughter along with the science and everything seeming so spontaneous.
It may be her lecture but she's not the only performer. She has a co-star in her rescue dog Darcy and there is additional assistance from warm-up and props man Schuyler Beeman.
Rossellini is in role in the red coat of a ringmaster (with white trousers ironed-flat over her skirt) and Darcy becomes performing dog Pan, kitted out in a variety of costumes to become all kinds of animals from chicken to elephant while Beeman does the switch-off-your-mobile-phone intro and (in a bee-keepers costume instead of Kabuki black) handles children's toys and other props used in demonstrations as well as being dog wrangler.
The video consists mainly of film clips from the Green Porno series on animal mating behaviour that she made for Sundance TV with her face becoming that of a succession of species (which was also the basis of her previous stage lecture a couple of years ago) and she can't resist re-sharing such intimate information as the size of whales' two-metre erections and the details of a Borneo fungus beetle's flagellum, the excessive penis extension needed to navigate inside the female of a species that scientists have named after her: Ptomaphaginus isabellarossellini.
She traces academic ideas and attitudes from Aristotle through the middle ages to Descartes and then Harvard's B F Skinner, playing each personally. As she explores anthropomorphism then demonstrates animal behaviour that matches things humans do that were once thought to mark them out as a superior species, her own close bonds with animals become very apparent. She not only raises chickens on her Long Island farm (and demonstrates how different a broiler fowl is from the natural bird) but also rears pups destined to be future guide dogs.
Though Rossellini calls the show her Link Link circus and her costume and the trappings of the design are drawn from the circus ring, this is a quite gentle presentation without great drum rolls and glittering sequins. Rossellini's presentation has warmth and humour but little drama; the pace is a little too even, especially for an auditorium as large as this one, and lacks any moments of climax. The effect, and perhaps this is deliberate, is to shift the spotlight to Darcy, whose performance as Pan is packed with personality and makes her a new star alongside her mistress.
Reviewer: Howard Loxton