Lisa's Sex Strike
A new version of Aristophanes Lysistrata by Blake Morrison
Northern Broadsides / Octagon Theatre, Bolton
Greenwich Theatre and touring
(2007)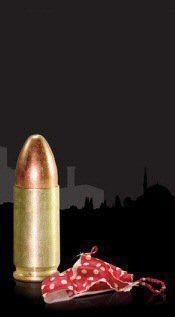 Northern Variety is alive and well - in Conrad Nelson's production of this reworking of Aristophanes' classic anti-war play. There are songs in styles from Rap to traditional Yorkshire (Eh up Chuck!), Soul to Bangla, Bollywood to titillating cabaret and even a speciality number for singing penises. Barry Rutter, as war god Ares, is given an old soldier routine ('a fighting-fit one-man battalion') straight out of the halls, and Eve Polycarpou's Zimmer-framed peace goddess Irene - or Ma Pax as she's called here - is in as good voice as when I used to love her as one half of duo Donna and Kebab in my local Greek restaurant. There is even some simple conjuring and, of course, the coarsest of old jokes that go back as far as - well, Aristophanes.
Morrison has made a fairly free adaptation which he has set in a northern English town where the mills are closed and the men have lost their jobs in mining and steel but been put back into work by an entrepreneurial industrialist who has set up his Dream Parts factory in the old wool mill. It doesn't ring quite true because the women don't seem to work - when Thatcher killed off British industry it was surely the women who managed to get jobs and keep things going. Nor does it quite seem comparable to replace the warring Greeks and Spartans with very low key local racial rivalry: Blacks, Indians and Middle Eastern emigrants on one side and Caucasians on the other - especially when the confused opening number presents the conflict on the level of a soccer game.
Once the show gets going there is suggestion of the women wanting to stop a wider violence on the streets and when they occupy the factory, which stands in for Aristophanes' Acropolis and its treasury, Morrison extends their stand to be against the armament industry: their establishment opponent not a state official but an opportunist weapons manufacturer, who also ascerbates racial division by separating his workforce. The adaptation is written, both songs and dialogue, almost entirely in lively and pointedly painfully rhyming verse. I particularly liked the non seq response:
-- This town's as bad as Sodom and Gomorrah!
-- I'm going for a manicure tomorrer.
Script and production do try to take on rather too much, even an orange-overall reference to Guantanamo Bay. A couple of numbers go on too long and a brief cowboy movie pastiche fell flat the night I saw it, but there are plenty of audience pleasers, especially a smashing number for a line up of trusty, trigger-happy British policeman.
Designer Jessica Worrall has dressed it colourfully and set it on a simple rostrum and scaffold with a backing and floor cloth marked out as a street map. Her red furry phalli, with a life of their own, are a sure-fire score with the audience and she has a final variation on them to surprise us.
Director Nelson has also composed the cheery music and assembled a cast, most of them new to Broadsides, who can mainly double as instrumentalists - and he keeps them working hard.
Chook Sibtain gets shrieks from the audience with his painfully-endowed Amit, Chris Nayak has a touching moment of confession as the ill-hung Iqubal, now no longer feeling under-represented and Declan Wilson as Tyrone fails to hide his talent beneath his jacket. Anthony Hunt and Michael Hugo share their problems and give extra brio to the policemen, while Simon Holland Roberts as the wicked arms manufacturer gets a star-spangled apotheosis.
Among the women Becky Hindley dominates things as Lisa (Lysistrata) leading Sally Carman, Rebekah Hughes, Flo Wilson, Jessica Taylor and Seema Brown as her back-sliding team of frustrated females.
It is all a romp that, if you question it too much, does not really hold water (any more than this sentence does!) but while it may not work as a political statement to an audience with just a little indulgence it can be as much fun as the spirited company themselves seem to find it.
Opened Octagon Theatre 6th September. At Greenwich until 6th October, then touring to Bury St Edmunds, Nottingham, Aberystwyth, Cardiff, Liverpool, Newcastle under Lyme, Scarborough, Lincoln and Spalding.
David Chadderton reviewed this production at the Octagon, Bolton
Reviewer: Howard Loxton