Little Mermaid
Book, lyrics and additional melodies by Poppy Burton-Morgan, composer Matt Devereaux
Metta Theatre
Underbelly Festival (Spiegeltent)
–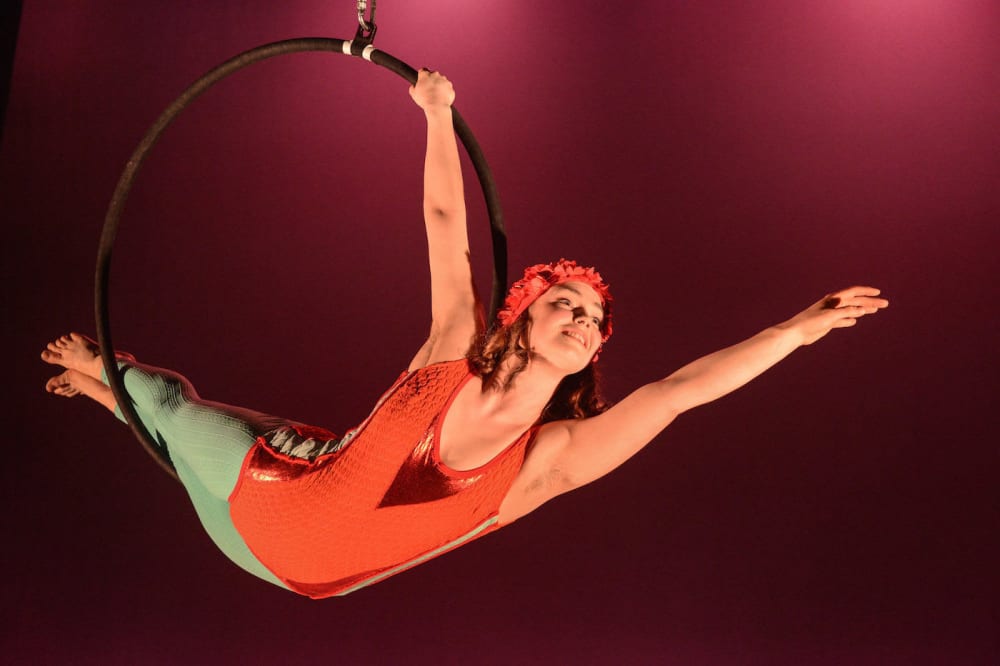 Metta Theatre claims to have created a new genre of theatre with this work: The Circus Musical. I'm not sure it is a first but it certainly combines acrobatic and other circus skills with musical numbers in the dramatic retelling of this familiar story.
It follows neither the rather sugary Disney take on the tale nor the tragic Hans Anderson version but comes up with its own twists as it tells of a mermaid who falls in love with a land man, reimagined from a rather more positive, feminist standpoint.
The challenges in telling this story come in presenting both fishtailed mermaids and their underwater world and the world of land-livers that the Prince that the Little Mermaid falls for comes from.
Writer-director Poppy Burton-Morgan doesn't worry about fishtails: these mermaids sometimes keep both feet together but they still walk around; the underwater world is created by keeping the main characters off the ground and water- (i.e. air-) borne on shoulders of others or lifted by them. The effect is successful enough to make you treat those doing the bearing as the sea's currents.
From photographs of the show on tour, there also seems to have been more support in the way of setting and lighting than is possible playing in the shared venue of the Underbelly's Spiegeltent. It puts the emphasis firmly upon the performers.
Here, close up and against the dark background, the Little Mermaid and her sisters lack fish-scale shimmer and the glitzy glamour of the circus performer. Costume designer Loren Elstein has put them in 1920s bathing suits and given them petal-covered bathing caps. The inspiration seems to be a formation swimming team, (though sadly that isn't echoed in the choreography) but though their dominant bland blues and greens may be aquatic they are not at all circus-ring glamorous. However, you soon get to accept them and their drabness makes Little's reds more exciting and adds to the effect made by the over-the-top design for Josh Fraser's white-wigged Seawitch (Roo Jenkyn-Jones at alternate performances).
Some of the acrobatics are spectacular: Fraser and Jenkyn-Jones masquerade as female so that the sisters can do some daring three-storey balances, with Tilly Lee-Kronick's Little Mermaid (Rosie Rowlands at alternate performances) standing on a sister's head dizzyingly high up, Benjamin D'iath's young Prince doing a death-defying dive and some very intricate support between Prince and Little Mermaid suspended in a high hoop. There is juggling too and stunning work with a Cyr wheel for the Seawitch but, however spectacular, this display of circus skills is all part of the story as it is acted out.
With at least fifteen songs and a score that the cast themselves play on violin, cello, double bass and flute, Little Mermaid packs its 75 minutes with music whether whipping up a storm to shipwreck a ship or offering a love song. The tunes are lively and if couple of voices have a raw edge that gives them an added sincerity.
Many of the songs are delivered at a fast pace and packed with information. Too rapid for a very young audience to follow their contribution to the storytelling and writer-director Poppy Burton-Morgan doesn't deliver the repetition that most youngsters take such pleasure in recognizing. Though there is plenty to watch and to wonder, this isn't a show designed for tots and infants—indeed the producers suggest eight and upwards.
You have to admire these multi-skilled performers and having them so up-close makes their daring feel even more dangerous, with the critical toehold, the delicate balance even more evident, the tumbling in touching distance, the flying body caught just in time not to crash into you, the energy exciting.
Reviewer: Howard Loxton