Little Miss Sunshine
James Lapine and William Finn
Arcola Theatre and Selladoor Productions
New Victoria Theatre, Woking
–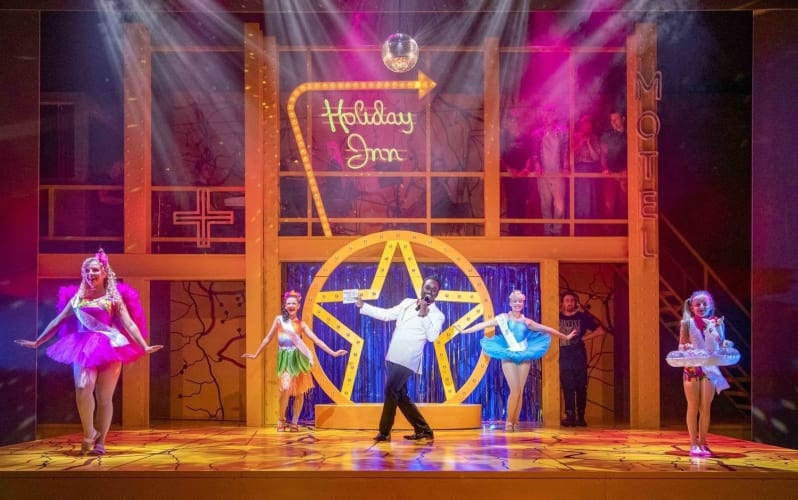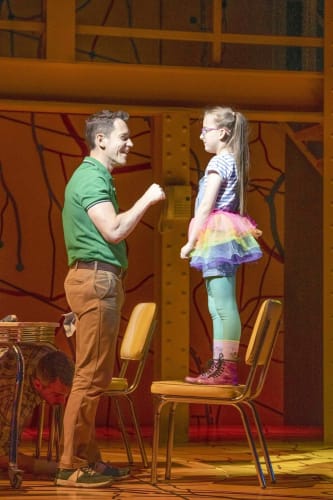 The latest film to undergo a musical transformation, Little Miss Sunshine opened in Woking to a sadly small audience tonight.
The 2006 film was a kooky hit. A family determined to get their young daughter into the finals of a beauty pageant take a cross-country trip in their VW bus. Staging what is essentially a film about a family stuck in a bus for an 800-mile trip from New Mexico to California was always going to be tricky. Thankfully, Mehmet Ergen keeps the action alive with a very fluid vehicle: a handful of chairs and basic chassis represent the yellow rickety van, and this is constantly shuffled about and reformed.
The cast are great actors. Representing the bizarre Hoover family we have the near-bankruptcy parents, suicidal Uncle Frank, mute son Dwayne, little Olive and her disreputable grandfather. In particular 10-year-old Lily Mae Denman impresses in the title role, barely leaving the stage.
The singing is consistent across the board but the only stand-out vocals come from Lucy O'Byrne playing overworked mum, Sheryl Hoover. There are excellent supporting performances from the company, with the versatile Imelda Warren-Green, Ian Carlyle and Matthew McDonald easily flitting between comic roles.
The let-down for this new adaptation is the music. The book by James Lapine sticks reasonably faithfully to the orginal film but is well trimmed to keep the plot flowing. William Finn's lyrics work but the music easily forgotten. There are a few catchy riffs, a hilarious performance of "The Sex Song" by Mark Moraghan (Grandpa Hoover) and one big emotional number for son Richard Hoover (Gabriel Vick). And the rest easily melded into one.
What is spot-on is the comedy. Zany and full of spunk, Olive breaks the mould at the pageant. Coached by her whacky grandad, her solo talent is outrageously funny and had the whole audience in fits of laughter.
Nifty staging by Mehmet Ergen results in a charming and well-paced small-scale musical which, true to the original film, has a good deal of oddball charm.
Reviewer: Louise Lewis