Little Red Riding Hood
Robert Pearce
Petite Pantos
Balham Bowls Club
–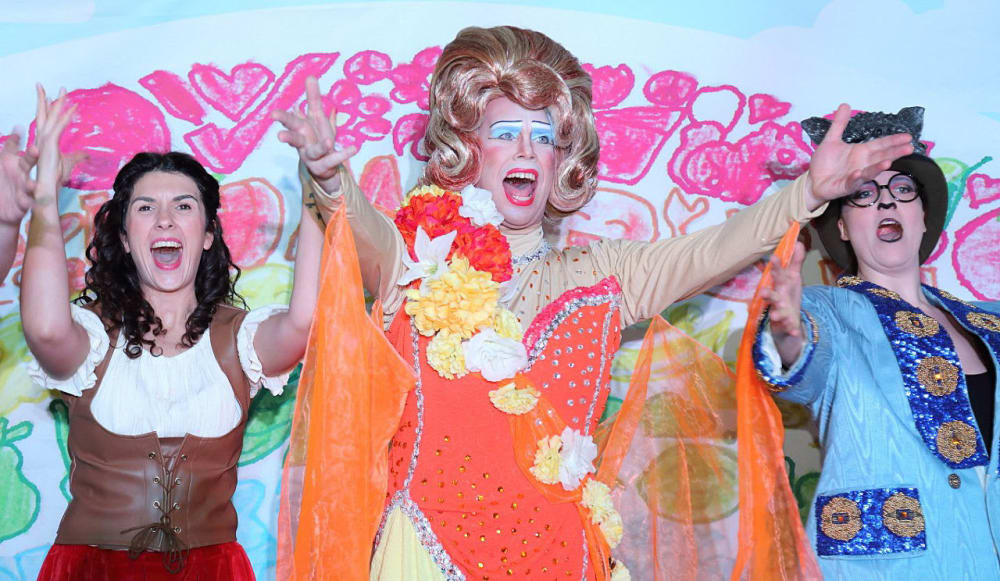 As Pantoland starts to wind down after New Year celebrations, there are still pockets of performances entertaining audiences up and down the country. This year, Petite Pantos kicks off 2020 with a new version of Little Red Riding Hood to add to its growing portfolio of productions that shine a light on lesser known titles and prove that an engaging and enjoyable pantomime can be achieved with limited resources.
Whilst Little Red Riding Hood may be petite in terms of cast size and scenery, it certainly packs a punch with a script that successfully renders the well-known tale into pantomime fare. One of the challenges of the story's narrative is how to maximise the Dame's stage time as Granny is only encountered in her cottage after a long journey by Little Red.
To combat this, scriptwriter Robert Pearce provides Red with three Grannies and, with a nod to George Lacey's much-recited panto patter, Granny Granny, Granny Fanny and Granny Annie help drive the show and inject plenty of anarchy on account of them all being played by Pearce himself. In the show's conclusion, when Granny Granny sets out to save Granny Fanny from the Wolf's lair, some quick-change calamities contribute to the show's raucous atmosphere harking back to the days of the Music Hall in the pub setting of Balham Bowls Club. It's just a shame that sound issues plagued the musical numbers, leading to newly written lyrics and harmonies becoming lost in amongst a fuzz of noise.
Pearce is an experienced pantomime performer, writer and director who understands that for a pantomime to work, it needs to have a strong narrative, clearly defined characters, plenty of slapstick and some toe-tapping tunes. All of the staples are ticked off in this paired-down panto, which delights first time audiences and provides panto aficionados with plenty of references to the genre's rich history.
A cast of four is all it takes to bring Little Red Riding Hood to life, with pre-recorded footage providing additional support. Relegated to the screen, it is unfortunate that Katie Pritchard's Fairy Tale is bereft of magical costume, wand and wings, but where this device works best is in an update to a stock piece of panto business which usually involves a radio cooking lesson that soon gets out of hand when the signal keeps switching to a tennis match. Here, Pearce updates this for a contemporary audience and blends comedy cooking with the news channel and an equivalent of MTV. As the characters try to keep up with the ever-changing instructions, hilarity ensures and someone literally gets caked.
In fact, Little Red Riding Hood is full of updated business and topical references, from Sandi Toksvig's Bake Off departure to the furore around the latest film adaptation of Cats. The decision to afford the Villain the dream of being in the film only heightens his sense of delusion, which, when added to the fact that he is a cat by the name of Jacob Rees-Moggy, permits plenty of comedic interplay from his disguise as the Wolf.
Marc Kelly's energetic Woody the Woodcutter has the audience on side from the off, with children delighting in his "If You're Happy and You Know It" songsheet, whilst the adults enjoy many a reference to his magical chopper. As Rosie (Little Red), Kayleigh Alwill proves herself a 21st century Principal Girl who doesn't need a man with Amée Smith sending up her politician counterpart perfectly as the cat in wolf's clothing Jacob Rees-Moggy.
An enjoyable evening of entertainment that fully captures and celebrates the spirit of pantomime, Petite Pantos has yet again proven that pub panto can be just as fun as that at the Palladium.
Reviewer: Simon Sladen