Little Red Riding Hood
Ray Spencer and Graeme Thompson
The Customs House
Customs House, South Shields
–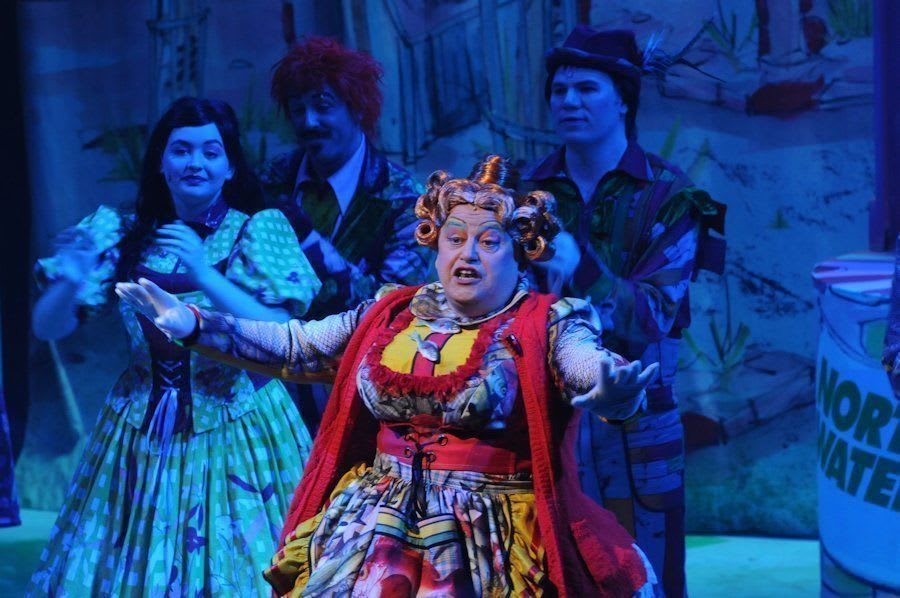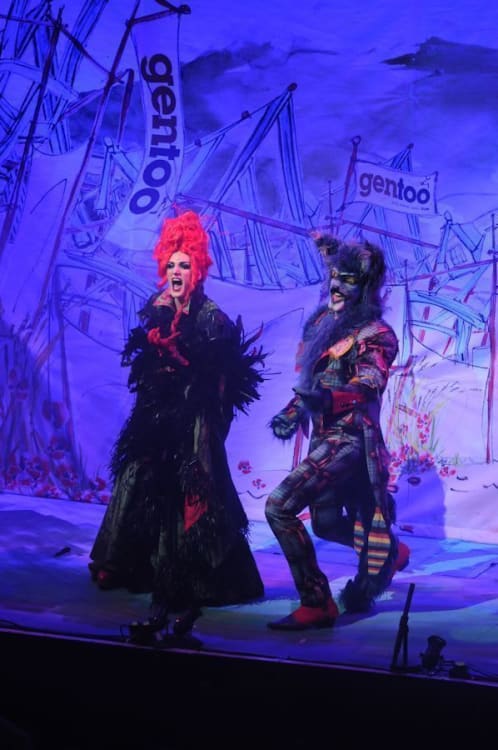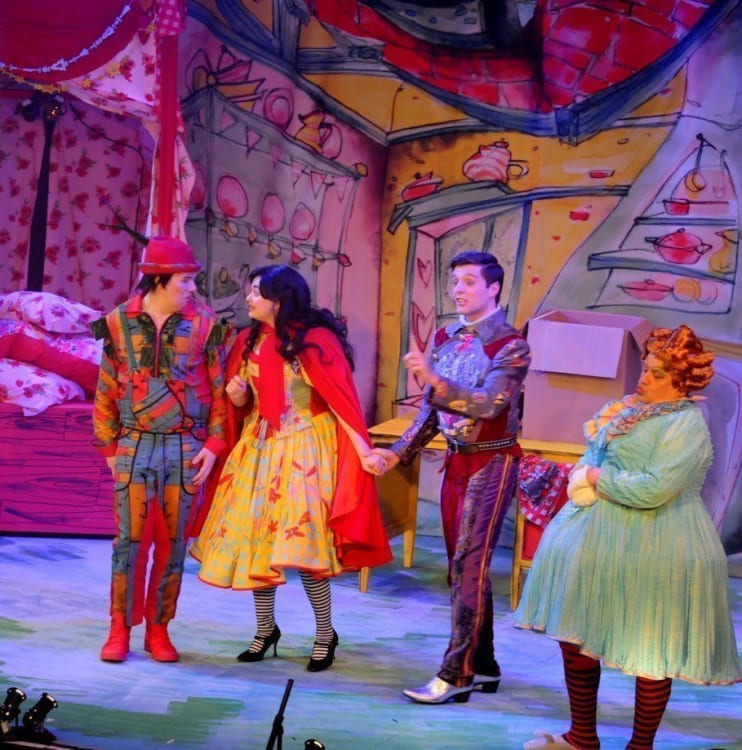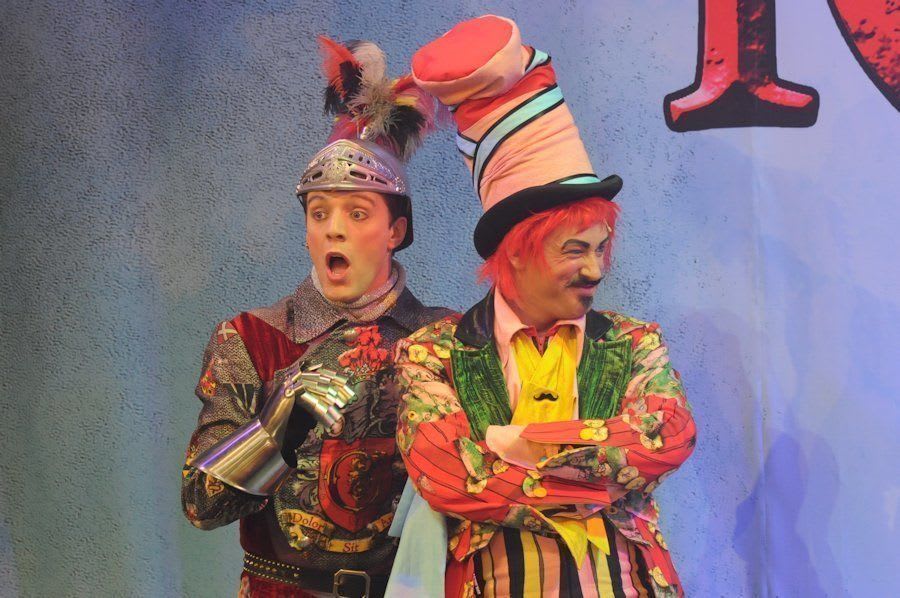 They've always called it "the little panto with the big heart" but now they're calling it "the little panto with the big heart... and eyes... and teeth!"
Yes, this year the Customs House presents Little Red Riding Hood which, being one of the less performed pantos, gives the writer the opportunity to make additions to the traditional story, add extra characters and, in short, add even more to the usual mayhem. Here writers Ray Spencer and Graeme Thompson have combined two stories; Little Red's, of course, and the Three Little Pigs', with both linked together, of course, by the Big Bad Wolf.
They've also added a wicked witch, Bracken; a cockney spiv, Mr Fracker, and—naturally—a Royal, Prince Chop-a-lot.
This year, too, sees Spencer's return to the panto stage, after standing down for 2013's Cinderella, but it's a major change for him: gone is gormless Tommy the comic and in his stead we have Granny Hood. His return is, as they say, by popular demand. Over thirty years of panto (and 25 as children's entertainer Tommy the Trumpeter) in South Tyneside has made him something of a local legend and his return has been welcomed enthusiastically by the Customs House audience.
Does he hack it as Dame? Without a doubt: there's laughter (and bad jokes—and hilarious asides) galore and the audience were with him all the way. The South Tyneside audience loves him!
And there's yet another role-reversal in this year's cast; after playing principal boy five times, Steven Lee Hamilton crosses to the dark side to become Wolfgang, the Big Bad Wolf. It's change which he obviously relishes.
He shares the villain spot with Jamie Birkett as Bracken. She is superbly evil and, as her sidekick, Hamilton is dominated by her and tries very hard to be very nasty but is just a little bit too nice. We can boo her withn great enthusiasm but we can't help but feel a sneaking liking for him. It's the traditional villain/sidekick relationship, not easy to bring off but these two succeed beautifully.
And I have to say that, for me, the musical highlight of the show was the pair's version of Queen's "A Kind of Magic."
Little Red Riding Hood herself is played by Natasha Haws, Spencer's real-life daughter, in her first principal girl role at the Customs House. She's an excellent singer and really captures the essence of the principal girl, a mixture of sweet innocence, a touch of feistiness and just a bit of confusion.
Jamie Brown makes his panto debut as Prince Chop-a-lot and is every inch the handsome hero: fine, upstanding, loyal—and a bit gullible!
The Woodman, of course, is one of the original Little Red Riding Hood characters, sometimes Red's father but always the one who saves her from the Wolf. Here he's her uncle, Timber, and has morphed into the Comic. Craig Richardson plays him with an endearing gormlessness, on the receiving end of most of the show's slapstick.
Finally there are the other "imports", The Three Pigs: Bratwurst (Gareth Hunter with German accent), Chorizo (Kylie Ann Ford with Spanish accent) and Savaloy (Luke Maddison) along with Del Boy-inspired spiv Mr Fracker (Stephen R Sullivan). They are there to provide extra comedy and so they do.
There are plenty of laughs, a bit of romance (not overdone—that would be a sure way to lose the kids), dance from the ever-reliable South Tyneside Dance Workshop, music (a little too much for my taste but not according to my companion, so that's me in my place then) and loads of audience participation. I think South Tyneside kids must be among the loudest shouters in the country, although—as ever—the adults gave them a good run for their money in the noise-making stakes!
The costumes and set by Paul Shriek and Matt Fox manage to surpass the already high standards they have set over the last five years, with the Pigs, the Witch and the Wolf (wonderful make-up too which, Hamilton tells me, takes over an hour to put on) being particularly impressive.
Reviewer: Peter Lathan