Red Riding Hood and the Wolf
Jon Barton
Little Angel Theatre
HOME Manchester
–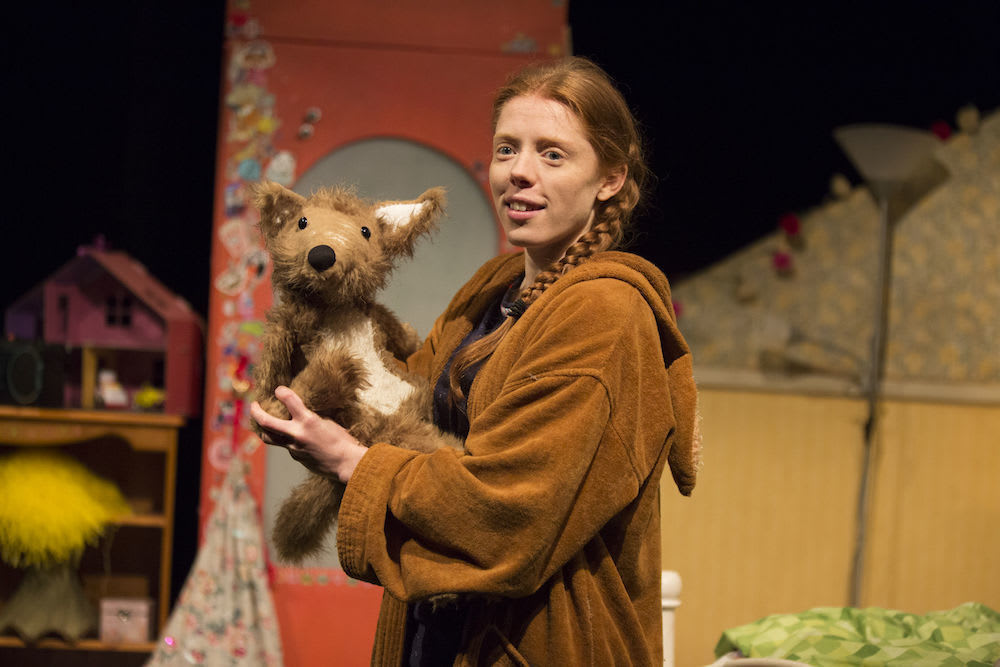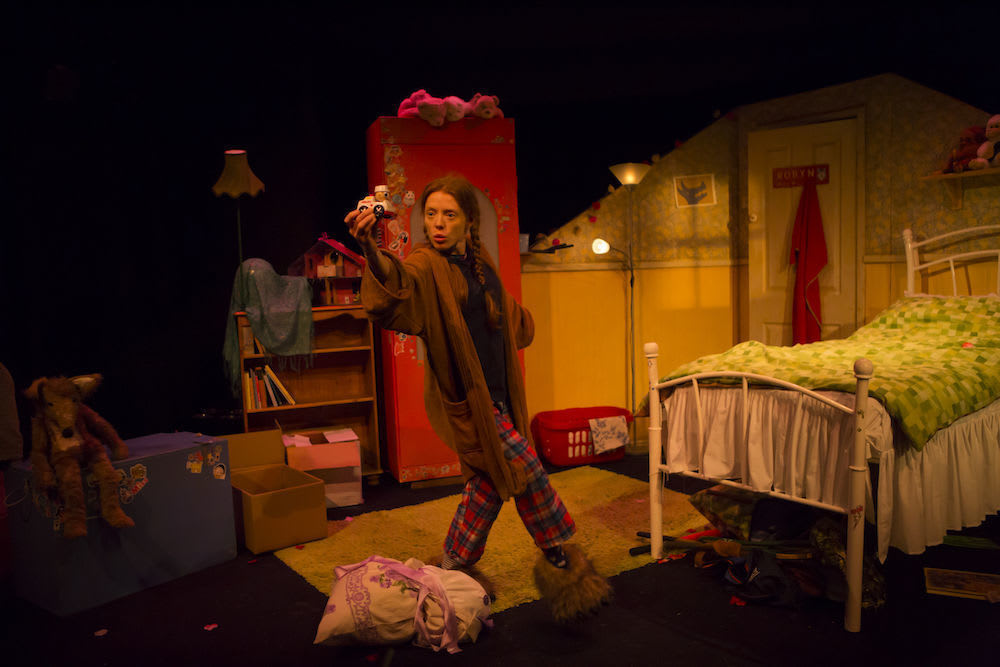 There's a big "don't judge a book by its cover" or "don't judge people by what you read about them" message in this story, which turns the classic fairy tale on its head.
It's not entirely original to set a story in a child's bedroom using objects found lying around to create the locations and characters in a story, but here, as performed solo by Charlotte Croft and directed by Jimmy Grimes with a design by Alison Alexander, it is done particularly well.
After getting permission from her (offstage) mother to read a book for ten minutes before lights out, Robyn starts to read the original Little Red Riding Hood but doesn't get very far, finding its title character a bit too sickly sweet for her taste.
Therefore, with the aid of a very cute wolf soft toy and a doll in a red cape, with tennis rackets and paddles as trees, a cushion as grandmother and various other bits and pieces, she creates her own story. She adds music with the aid of a toy piano and a cassette recorder (the latter may provoke some questions from the children...) for an atmospheric soundtrack from composer Adam Pleeth.
All told in verse (although some of the rhymes are a bit dubious), the story is of a wolf who has lost his pack and asks the sweet little girl for help, but it turns out that she and grandmother like to eat wolves rather than the other way around and they are both a little more devious than the original story would suggest.
The more tangled contortions of the story and the level of some of the language may be a little challenging for the youngest audience members to follow (it is recommended for ages six and above), but it just about hangs together and is visually appealing and inventive throughout. Wolf becomes a very appealing central character who has, you will be pleased to know, a happy ending after his traumatic experience with the terrible humans.
So don't believe about people "things you hear / To make you quake with fear"; be careful what you read and don't believe everything in a book (or newspaper). And spend 50 minutes in the company of Robyn for her classy-looking reworking of this well-known story.
Reviewer: David Chadderton