Little Shop of Horrors
Howard Ashman and Alan Menken
Clwyd Theatr Cymru
Clwyd Theatr Cymru
–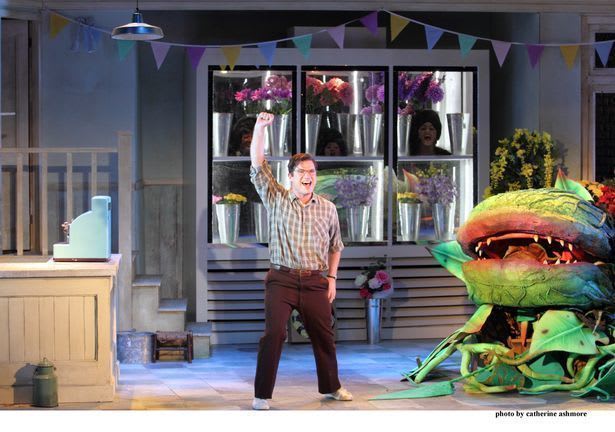 Don't mess with a florist and don't, under any circumstances, feed the plants. Those are two messages a delighted audience were left to ponder as this superb production brought the house down.
Theatr Clwyd's Associate Director Tim Baker has skilfully brought Howard Ashman and Alan Menken's 1982 stage version of Roger Corman's early '60's black comedy horror to the North Wales stage and it is proving a great hit.
The story unfolds in a loss-making florists on Skid Row where Mr Mushnik, played by Theatr Clwyd favourite Phylip Harries, is facing ruin until word spreads about a remarkable plant that has been reared in his shop. However, there is also a growing love story between Seymour Krelborn, the shy orphan who has nurtured the plant and shop assistant Audrey, who inspires him to name the plant Audrey 2.
Daniel Boys is highly impressive as Krelborn and Georgina White continues to impress as Audrey following her appearance in Somewhere in England last year. Gary Lake is also a huge favourite with the audience as the sinister Orin the Dentist, a rock 'n' roll rebel with a penchant for laughing gas but also a sadistic bully to his girlfriend Audrey.
It is the bullying nature of Orin that provides Audrey the plant with the chance to indulge her growing appetite for human flesh as she persuades the hapless Seymour to feed him to her. The creation of Audrey 2, and the entire set which perfectly evokes the notion of 'Skid Row' with a litter-strewn back alley appearance, is a fine achievement by designers Ruth Hall and Max Jones.
The flesh-devouring plant grows throughout the performance until it is dominating the stage while both puppeteer Michael Humphreys and Daniel Lloyd as the voice combine well to create a spoilt monster with a bottomless stomach. It may well be difficult for you to hear the phrase "feed me" again without experiencing flashbacks to this burgeoning botanical behemoth.
Little Shop of Horrors is a delicious slice of macabre escapism, superbly conceived and delivered by this highly talented company and you could not hope to see a better production on the London stage. See it while you can, but do not feed the plants.
Reviewer: Dave Jennings