Little Shop of Horrors
Book and lyrics by Howard Ashman, music by Alan Menken
Royal Exchange Theatre
Royal Exchange Theatre, Manchester
–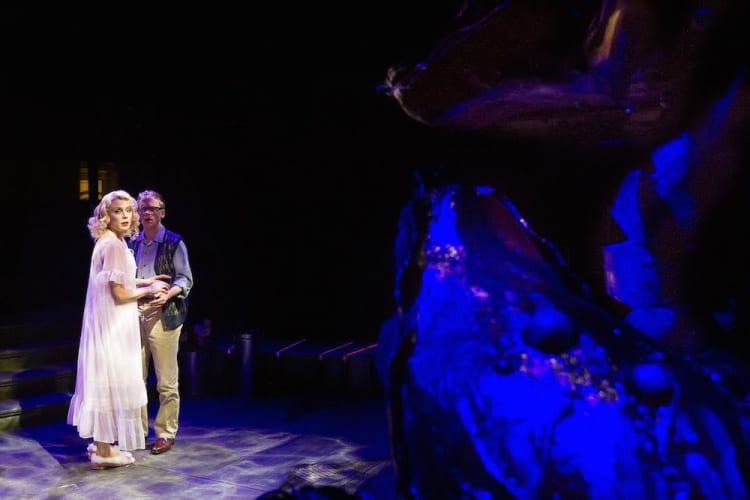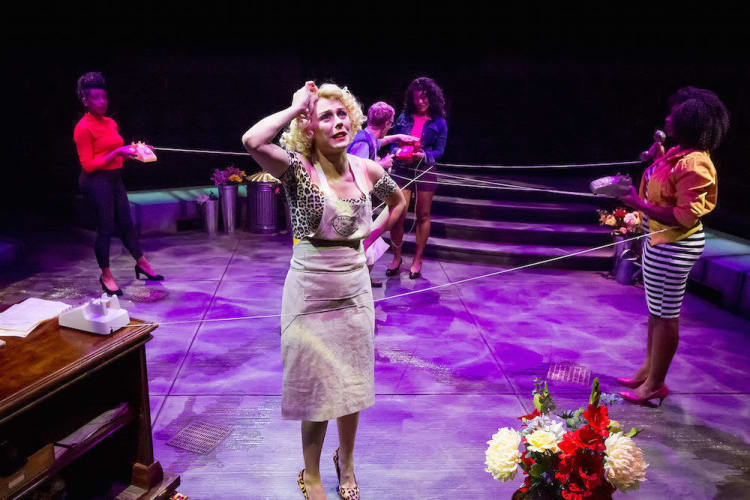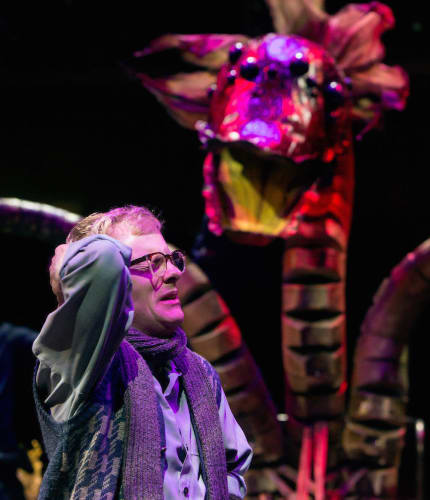 Card on the table, this is one of my all-time favourite shows, a near-perfect popular musical with a brilliantly witty book and lyrics from the much-missed Howard Ashman and a wonderful '60s-influenced pop score from Alan Menken. That means that if the Royal Exchange has got it right I'm probably going to come out very happy, but if they make a mess of it...
Fortunately, they don't. The last time I saw this show on the professional stage in Manchester, it was a fairly bland touring version of the Menier Chocolate Factory production at the Opera House five years ago, but even that had some high points. Derek Bond's production is directed with bags of life and energy and with what appears to be a great affection for the piece.
Based on a Roger Corman b-movie from 1960, the musical tells the story of how a strange and unusual plant, discovered by lowly shop assistant Seymour Krelborn, suddenly makes a struggling flower shop on Skid Row into a huge success, but at a price. Known only to Seymour, the plant feeds only on human blood, and as it gets larger, it gets hungrier.
Into this horror b-story is injected a romance, as Seymour falls for his colleague Audrey whose Dentist boyfriend is always beating her up, and some great '60s girl group-style commentary from sometimes-glamorous street urchins Crystal, Ronnette and Chiffon.
Gunnar Cauthery is a suitably pathetic Seymour who grows in confidence as the plant grows in power. Kelly Price creates her own dumb blonde Audrey very effectively without copying the original played by Ellen Greene as most seem to do. Sévan Stephan is a hilarious force of nature as Jewish shop owner Mushnik.
Ako Mitchell is pretty good as Orin Scrivello DDS and several other small parts, but when he tightens up his comic timing and perhaps slackens off on the comic posturing he will be even better.
The plant is quite an impressive creation in all its incarnations—just as you think you have seen the largest version, there's a further surprise near to the end—and uses visible puppeteers instead of hiding them inside, which works perfectly well. The lead puppeteer also provides the voice; Nuno Silva gives an extremely impressive physical and vocal performance.
There is also some incredible vocal talent on display from the girl trio of Ellena Vincent as Crystal, Ibinabo Jack as Chiffon and Joelle Moses as Ronnette, especially in the opening to "Downtown". Other puppeteering duties and ensemble roles are covered by James Charlton and C J Johnson.
There is a very good five-piece band tucked in the corner of the theatre—if an in-the-round theatre can be said to have corners—although it sometimes sounds a little muffled and struggles to compete with voices which are highly-amplified, even for the dialogue, in Manchester's most intimate professional theatre space.
So I wasn't disappointed. It could do with some tightening up in places, but that will come during the run, which has already extended by two weeks to cope with demand. I also wasn't convinced by a rushed attempt to turn the original show finale round to appear to be a happy ending, even if it did provide an excuse to use confetti cannons.
But even at this point in the run, this looks to me like the best Christmas show in Manchester this year.
Reviewer: David Chadderton