and the little one said
Laura Stevens
Peters Productions in association with Adam Spreadbury-Maher for Good Night Out
Cock Tavern Theatre
(2011)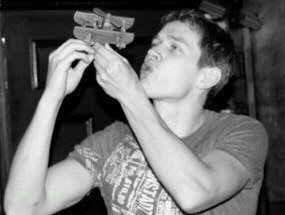 Ben was abducted when he was nine-years old; now eighteen, he has been returned to his family and his father brings him home, frightened and disoriented, to the house where he was a boy. He has already been extensively questioned by the police but there is a posse of journalists outside baying for his story and his father and twin sister want to hear it too, but Ben isn't going to tell them.
He misses the routine he has been used to, things to do at specific hours of the day, set meals for different weekdays, the safety of being locked in. The play, here receiving its world premier, reveals only fragmentary details about his past and what has happened to him. In piecing them together not everyone will draw the same conclusions. The one scene in which he does begin to talk, answering the questions of a young female journalist, accidentally met when he runs away (again?) but whom he has come to trust, takes place off stage. His revelations are too much for his listeners to take so that we see them in turn escape for a break. It is a scene that did not quite work for me, it seemed awkward, but Stevens is interested less in what happened during the nine years as a virtual prisoner than in the effect it has had on Ben and the difficulties his father and sister (his mother having died six months ago) have in re-establishing relationships.
Chris O'Shea, as Ben, disoriented and confused, forcefully suggests the bond that had developed between him and Graham, his captor, and is particularly touching in those scenes where he experiences something new: a visit to a beach, the sight of the stars which he has studied only from books and charts. Stevens is not afraid to give her characters extended speeches and both Samantha Scott as sister Katy, gradually getting to understand her brother, and Maeve Malley-Ryan as journalist Ella play them skilfully. She gives the father less to work with and although Adrian Francis handles his sudden shifts from welcoming indulgent dad to exasperated hectoring, we discover little about him except from his daughter.
Sound designer Hannah Stewart has provided a sound score of music and effects that matches Ben's confusion and bridges the many scene changes but director Charlotte Peters has been faced with trying to fit them all into this boxed-in stage with no wing space and the recurrent rearrangement of furniture destroys the flow of her production and the concentration she develops in the audience..
There are other solutions to multiple location plays in awkward fringe venues but instead of presenting a challenge in staging perhaps 'emerging' writers, as this one has been described, might reconsider writing plays that echo the short scenes of television and cinema and create work that uses a single setting or one that does not demand refurnishing every five minutes!
Run ends 27th February 2011. Peformances are Wed to Sat (except 9 & 16 Feb), with matinees on Sat and Sun
Reviewer: Howard Loxton