The Little Prince
Rick Cummins and John Scoullar, based on the book by Antoine de Saint-Exupery
Northern Stage, Newcastle
(2005)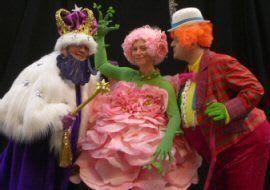 The Little Prince is Northern Stage's Christmas show this year - a rather profound, yet heart-warming tale, just perfect for the festivities. And the cosy, intimate confines of the revamped stage one area - just twenty rows of seating, curving backwards in a lovely arc shape - makes the perfect setting for this wonderful adaptation.
Many people will have fond childhood memories of this tale by Antoine de Saint Exupery about a little boy from a far-off planet who stirs the imagination of a pilot who has crashed in the middle of the Sahara. The Prince meets a variety of characters on his travels from the coquettish and demanding rose to a conceited man, scary snake and jumpy fox. And the pilot, too, embarks on his own journey of discovery and uncovers the person he would much rather be.
It's actually a very thought-provoking little tale, and quite a brave choice for a Christmas show.
I had three young reviewers accompanying me, aged seven and eight years, and I did wonder what their reactions would be. I need have had no worries, though, as they were utterly enthralled.
Interestingly, they thought The Little Prince character was "cool" and that the pilot was "a bit freaky". And not the other way around A lovely indicator of a child's open mind, but proof, also, that this charming show is reaching out to children as it intends.
And it's seemingly not just for children either. There were a fair few adults and students in the packed audience, too, who seemed to enjoy the magic of the story.
Sophie Trott is delightful as the Prince - she's tiny and graceful and plays the part with a believable child-like innocence.
The pilot played by Markus Von Lingen comes across as very grown-up and solidly adult-like, just as he should do.
Peter Peverley, playing a Geordie fox, is fun and witty, darting around the stage.
There's audience participation on a grand scale, too, when The Little Prince journeys to Earth, and a variety of enormous objects from a tin of baked beans to a replica Tyne Bridge, and an eight-foot long fork, are carried around the audience. The Little Prince even joins in the fun, weaving through the rows and shaking children's hands.
It's all here - interesting, colourful characters and a story that sparks the imagination. Director Neil Murray should take a bow!
Running until 12th January.
Reviewer: Katharine Capocci