Little Shop of Horrors
Based on the film by Roger Corman. Book & lyrics by Howard Ashman; music by Alan Menken
Menier Chocolate Factory Production
New Victoria Theatre, Woking, and touring
(2009)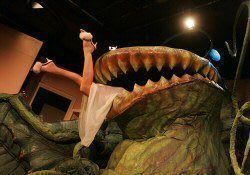 I'm sure I must have seen the film, if only on television, but it has slipped away into the dark recesses of my memory where so much of my life resides, so I arrived at the theatre knowing very little about the show, and I have almost re-discovered a gem. It is fun, quirky, a delightful spoof on horror movies of the sixties (including many wicked impersonations of characters of that time) but – and it is a big BUT – if only I could have heard the lyrics I should have appreciated it so much more. The sound system so distorted and drowned the words that only occasionally could I make sense of them, and what I did manage to hear was very witty and very funny throw-away humour.
However there is no problem knowing exactly what is going on. David Farley's brilliantly inventive set (he is also responsible for costume and plant design) shows a florist's shop in Skid Row, which opens like a book to reveal the interior where owner Mushnik and his two assistants are contemplating a bleak future as the business is on the rocks, but assistant and protégé Seymour is nurturing 'a strange and interesting plant' which, when put on display, mysteriously brings in the paying customers. All will be well so long as Seymour can keep the plant alive, but here is the downside. The plant, named Audrey II as a tribute to co-worker Audrey, demands to be fed on human blood and Seymour is running out of his own. Where will he get fresh supplies? Audrey II knows where and how, and its constant cry 'Feed Me' galvanises Seymour into dramatic action.
Performances and characterisations are excellent. Damian Humbley is a diffident, likeable Seymour. Clare Buckfield's Audrey, short-skirted and with impossible stilettos, is the abused girlfriend of sadistic dentist Orion, but with a beautiful romantic ballad "Suddenly Seymour" when the two find love, and Sylvester McCoy is an adorably funny Mushnik (especially his wandering accent), while the glorious mellow beguiling voice of Clive Rowe could almost you make you love the monster plant, now grown to colossal size and gobbling up whole people. Nadia di Mambro, Cathryn Davis and Donna Hines are the three girl backing group, Chiffon, Crystal and Ronette, a fun and funky send up of sixties style numbers with Davis demonstrating her own glorious voice in the song "Downtown". Lynne Page's choreography matches the rest of the show – original, unpredictable and entertaining
Alex Ferns has fun as the sadistic Orin Scrivello, as well as every other character not already mentioned, and he suggests, rather than impersonates, Elvis or Michael Jackson with his comical crotch grabbing wide-legged stance. He works very hard at the dentist scene with Seymour forced into the chair, but I have never been able to contemplate a sentence containing the words Dentist, Pain and Funny, so this scene made me cringe rather than laugh, but the rest of the audience was lapping it up – including all the children – bloodthirsty creatures He got his comeuppance when the laughing gas mask became stuck and he suffocated more laughter
Songs are tuneful and swing happily under Tony Higgins's musical direction, and a special mention for the puppeteers Andy Heath, Brian Herring and Iestyn Evans who expertly manage Artem's monstrous creation.
This production began life at the Menier Chocolate Factory where the small theatre and intimate atmosphere must have added to its appeal, but it is fun too on the large stage of the New Victoria and well worth seeing.
This production was also reviewed by Philip Seager in Sheffield, Peter Lathan in Sunderland and David Chadderton in Manchester
Reviewer: Sheila Connor