Live for London
Direction and choreography by Savion Glover
Sadler's Wells
(2007)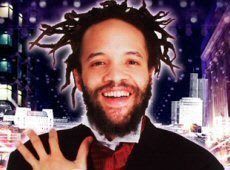 Ever since I saw the exciting Bring in Da Noise, Bring in Da Funk in New York in 1996 I have longed for its creator and performer, Savion Glover, the celebrated American tap dancer, to come to London. It's been a long wait. This is Glover's first visit. He came for only four days with a concert performance rather than a full-scale production.
The awarding-winning Bring in Da Noise, Bring in Da Funk, which was created with George C. Wolfe, gave a potted black history lesson from the days of slavery to the present, in a series of tableaux, through tap dancing and rhythm. The show had a political agenda and three of its most powerful images recorded lynching, street riots, and factory workers as cogs in a machine. The invention and spontaneity of his choreography was matched by the bravura, dexterity and energy of Glover himself and his excellent dancers.
The 33-year-old, dreadlocked, bearded and baggy-trousered, has been a virtuoso dancer since he was 10 when he co-starred with his mentor, Gregory Hines, in The Tap Dance Kid on Broadway. Today, he is acknowledged to be the world's greatest living American tap dancer.
Glover has reinvented tap, giving it a new dimension, which has absolutely nothing to do with brightly spangled, smiling chorus boys and girls vacuously hoofing away. He orchestrates his feet like a percussive instrument, hammering the deck, beating out intricate rhythms. He uses the whole foot not just the toe­-ball-heel and his lightening feet – miked and amplified - move through a whole range of musical styles. His style is influenced by the heavy bass beats of hip-hop music.
For sheer stamina I was reminded of the Kodo drummers who go on beating their drums long after you presume they have no energy left. So it is with the indefatigable Glover who goes on dancing and dancing and dancing and dancing. He can't keep going, you think. But he can and he does, non-stop – relentlessly so and exhaustingly so, for the audience, too.
For Savion Glover tap is music as much as it is dance and he uses tap as a musical instrument, interacting with his band, a quartet of jazz musicians: Patience Higgins (Saxophone) Andrew McCloud (Bass), Tommy James (piano) and Dwayne 'Cook' Broadnax (drums). For much of the time he dances with his back to the auditorium so that the audience can concentrate on the sound and the feet and not be distracted by facial reactions. In the second half he is joined by his dance group, Chapter 1V: Marshall Davis Jr, Maurice Chestnut and Ashley Deforest.
Live for London was a concert for jazz aficionados as much as it was a concert for tap fans.
Those of you, who are thinking of taking your children to see the animated cartoon, "Happy Feet", may be interested to know that Glover is the co-choreographer and performed the tapping feet of Mumble, the tap-dancing penguin.
Reviewer: Robert Tanitch