Living newspaper: A Counter Narrative. Edition One
Miriam Battye, Amir Gudarzi, Nazareth Hassan, Matilda Ibini, Sonia Jalaly, Jasmine Lee-Jones, Suhaiymah Manzoor-Khan, Somalia Nonyé Seaton, Katherine Soper, Chris Thorpe, Temi Wilkey and Daniel York Loh
Royal Court Theatre
Royal Court Theatre
–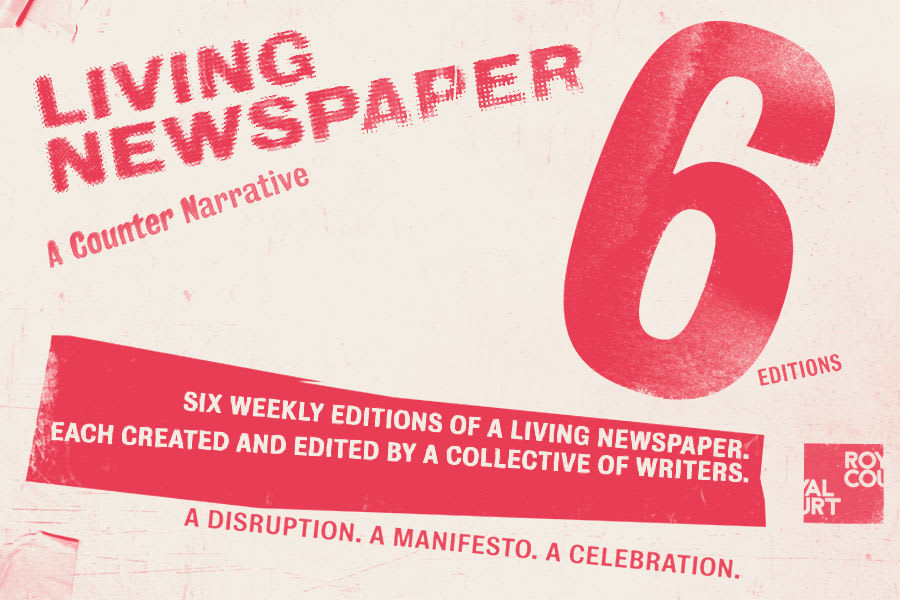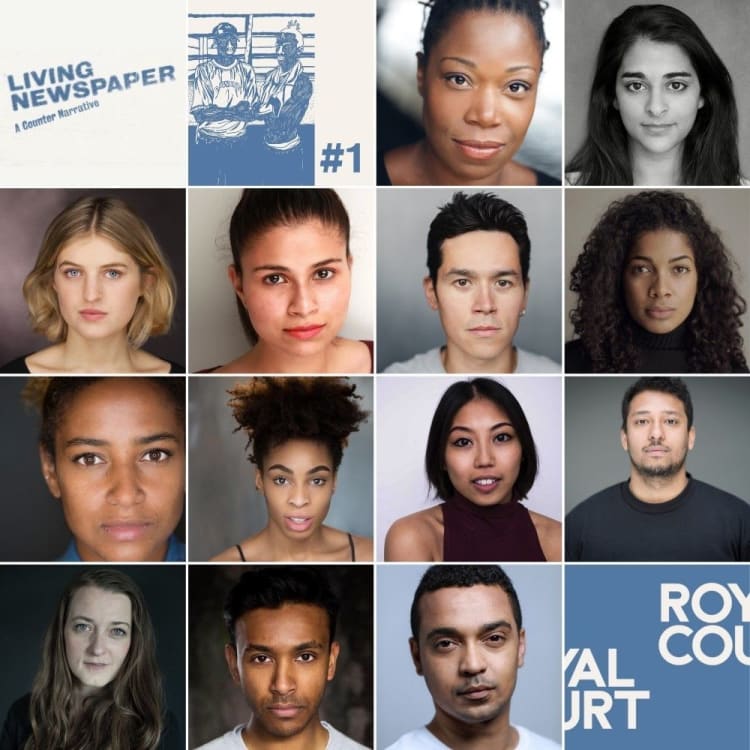 There is much to grab your attention in the first edition of the Royal Court's promenade and digitally streamed Living Newspaper, which takes its name from the 1930s American politically radical performances funded by the Federal Theatre Project.
A socially distanced audience of fifteen get to walk the Royal Court building, passing posters and artifacts, pausing to watch sketches, short plays and even a curious dance sequence.
Much of what we see is explicitly politically critical of the powerful, particularly in respect of the treatment of migrants. A satiric talk show entitled Brown Women Do It by Suhaiymah Manzoor-Khan welcomes to the show Priti Patel played by an actor as a PWOC (powerful woman of colour) and "the 'A' in BAME" who is asked by audience members questions about child migrants drowning in the Mediterranean and her reckless criticism of lawyers who represent migrants, something it is claimed has made them a target of white racists. Her standard reply is a scripted irrelevance.
In Hungry for a Lie by Daniel York Loh, a youth reflects on the strange political journey rightwards of his friend Carl of Chinese heritage, whose discontent increasingly draws on conspiracy theories about COVID and other issues.
Not everything we see has a political tilt. Indeed, the first person to greet us on the outside steps of the Royal Court tells us the Living Newspaper "just wants to start a conversation about what's going on… (It) is not trying to convince us of anything."
And in among the stories with a political edge is an agony aunt advising about scotch eggs, a horoscope, a couple negotiating a date as they sit on the bar counter and someone who stops us on the stairs to ask us to "practice looking at each other, looking into each other's eyes."
However, the high point of the show is Who Cut the Cake by Amir Gudarzi taking place in the rehearsal room, where four actors conjure up a surreal story that shifts between four scenes. In one, a party of powerful people cut a cake called Kurdistan into four pieces, the largest part with the oil, we are told, goes to England.
Another scene depicts small Kurdish children sitting in a leaky boat crossing The Mediterranean. You can guess how they are going to end up.
A third scene gives us the planes that fly to Turkey in 2017 delivering seven hundred million pounds worth of weapons, which are then used to kill Kurds. The fourth scene has schoolchildren visiting the British Museum asking where all its treasures come from.
The performers ask us to:
"Imagine one day your museums will be empty and on that day you could start filling them with the dead... or better with a whole pile of weapons that you produced and sold to the countries of dictators or with the humans killed by those weapons. Would you have enough space in Great Britain for all of them."
Reviewer: Keith Mckenna