Living Newspaper Edition 5
Zia Ahmed, Leo Butler, Guillermo Calderón, Nick Cassenbaum, E.V. Crowe, Maud Dromgoole, Nessah Muthy, Iman Qureshi, Marcelo Dos Santos, Nina Segal, Dalia Taha, Joel Tan and Maya Zbib.
Royal Court Theatre
Royal Court Theatre
–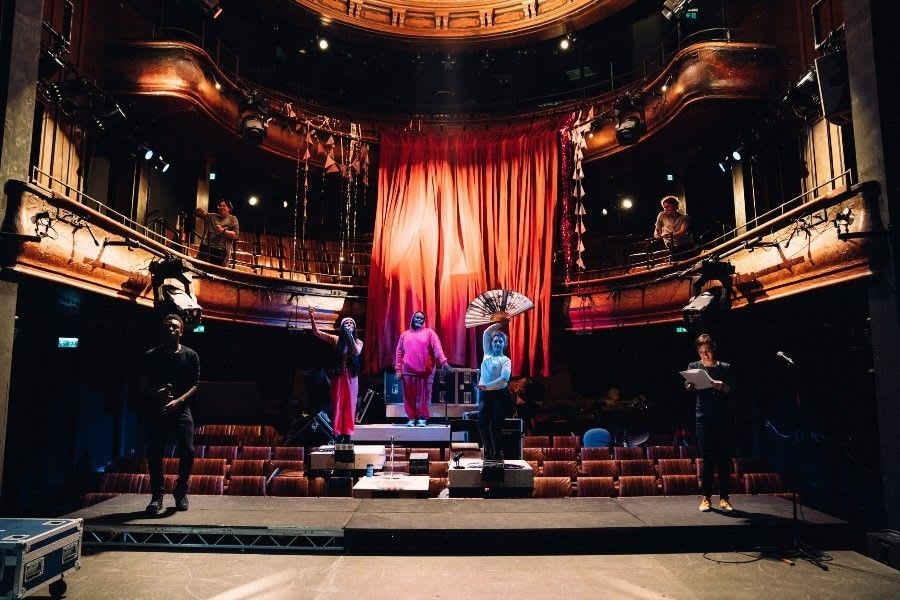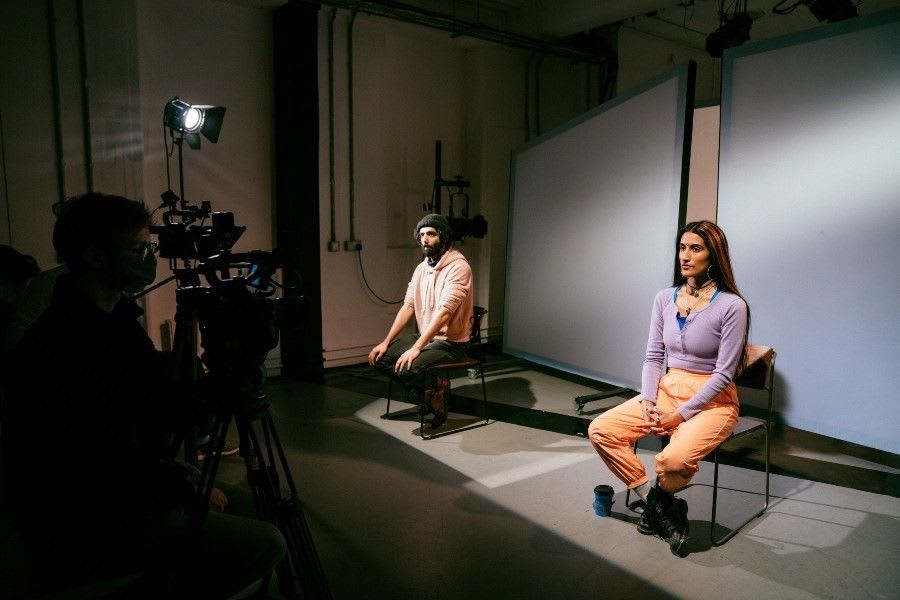 When most mainstream political commentators seem sleepily at ease with the world, it is great to see the Royal Court's Living Newspaper Edition 5 engage with current events in such a critical and engaging manner.
The drag artist Le Gateau Chocolat as Queen Auntyfa welcomes us to A Slice Of The Empire, a jaunty romp with rap and the Aunty-Fa players dancing like puppets as they sing an hilarious song that many might prefer to the British national anthem. "Stiff Upper Lip. Keep Calm, Carry On... In exchange for rubies, rubber, tin, we get English borders original sin... Spitting dust of empire out in their phlegm... You're British till they say you're not. How can we sit down and talk it out over a cup of tea when even that tea has been pillaged from another country?" They finish by renaming the Royal Court "The Public Democracy of Imagination or Keith".
Zia Ahmed gives us the more unsettling Scene / Unscene in a poetic story of a hidden Britain in two voices against a slow, minimalist soundscape. The shadow of a woman dances behind a white screen. A man's incantatory voice that seems compressed to a steady limited rhythm and tone speaks directly to us, listing the monotony of whiteness: "White boy kills millions white boy stole millions white boy made millions... white boy curator, white boy archivist, white boy historian. When you look at the picture you look at what's not there. War crimes are defined by the winners. History distorted like a body contorted."
There is also a critical perspective on the UK in Subverts by Marcelo Dos Santos, which begins with a picture of people queueing at a food bank, takes us through the cramped accommodation a couple are reluctant to buy before they are led by the estate agent to the rooftop view of London, where, with a twinkle in his eyes, he tells them, "all of this is yours". As they marvel at this, we are shown an advertisement for a tax break for anyone who wants to save £384 million in tax.
Some people still hold a special affection for London. A man in Red by Guillermo Calderón nostalgically recalls a romance in the city he can no longer visit because of COVID.
Two gay men, COVID-separated by thousands of miles, try with difficulty to sustain a relationship in Joel Tan's It Matters, The Way We Say Goodbye.
Inger and Mari sit on a sofa in the unidentified country of E V Crowe's The tree, the leg and the axe. They tell each other how lucky they are to be "in the mountains, in the quiet" out of the way of danger. Ominous music increasingly underscores their conversation as they worry about constant distractions, the villagers whose eyes are too close together and the threat that "everyone will want to come here to the safe place. Everyone will be at the borders and there might not be enough room."
A party celebration of New Year's Eve 2020 at the spacious Beirut apartment on the seventh floor in Maya Zbib's This End of the Year Thing is an opportunity for a group of artists and writers to talk about their anxieties. They talk of leaving the country. Carmen complains to Oula that in the novel she is writing "nothing happens, the characters are all the same voice, passive, negative, passive-aggressive." They laugh and together say, "just like us." Their world feels stuck, their future "just another shitty year."
Very different frustrations are taking place in Dalia Taha's A Warning set in the Palestinian city of Ramallah, where a woman (Kayla Meikle) on the way home from her parents, stops at a bookstore where the owner describes having a truckload of books held up at the border waiting for Israeli border officers. "A book contains the word Lebanon, Beirut, Syria will be torn up." She says they are all in a "stricken crushed and pounded city", but the anger for revolt still grows.
Ramallah is one place that will especially suffer from climate change. The media weather forecaster (Kayla Meikle) in Nina Segal's And Now, The Weather is astonished that the increasing heat isn't top of the news agenda and decides to argue her case to the boss.
The worker irritating her boss with the high standards of her work is at grave risk in Nessah Muthy's Gardening tales for girl bosses.
A peculiar version of the future takes place to a low droning soundscape in Nick Cassenbaum's Cosmic Collective. A severe-looking black youth (Olatunji Ayofe) in a beret associated with the Black Panthers tells us about the revolution when, in what looks like an old-style Big Brother threat, he tells those comrades from each star sign how they will contribute to the collective.
The surprisingly uplifting Azadi by Iman Qureshi gives us a "queer Muslim" (Asifa Lahore) who, while dancing to the club classic of Rozalla's "Everybody's Free", lists many ways in which Muslims are stigmatised. "To wake up and see in the paper a Muslim girl can't wear a hijab. Another Muslim girl must wear a hijab. Another Muslim girl prevented from going to school cos LGBT is taught. Another white girl is groomed by a predatory Muslim man. Muslim conspiracy to take over school / council / country. Another Muslim schoolgirl left to drown in a river by racist bullies—There is no vigil." And so it continues, till she declares, "we are not your good Muslims to exemplify the triumph of Western values over Islam. We are Queer Muslims and we don't have to choose which part of us we love." She finishes with the Persian word for freedom or liberty: Azadi.
Reviewer: Keith Mckenna