Living Newspaper Edition 7
Blessing Adetunji, Fatima Kazmi, Tyreke Leslie, Naomi Lundie-Smith, Sam Pickering, Taichi Shinokubo, Ruby Stokes
Royal Court Theatre
Royal Court Theatre
–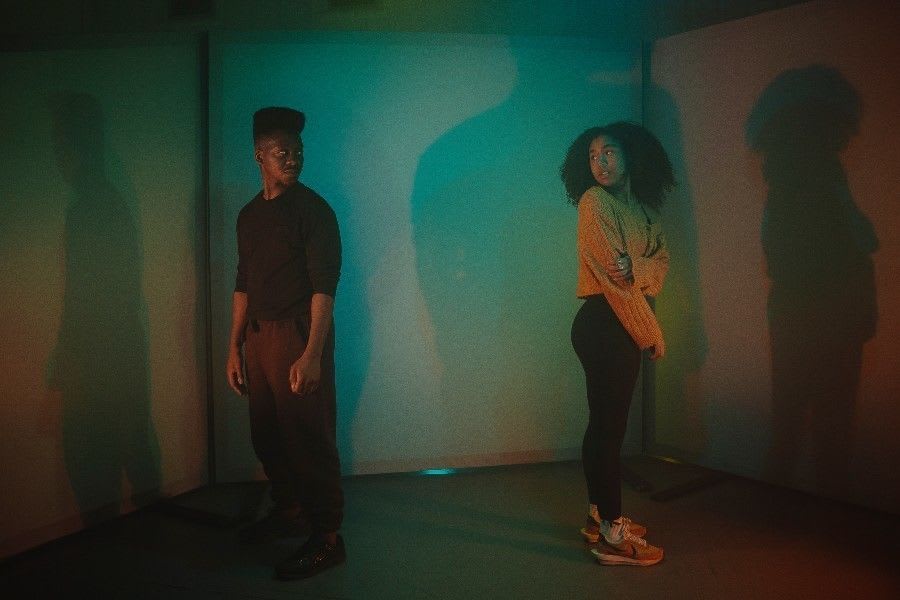 The COVID disruption to our lives unsettled all our relationships, throwing up all kinds of feelings. In Living Newspaper Edition 7, a group of writers aged 14–21 explore some of that experience.
The woman with the Glaswegian accent in Ruby Stokes's sometimes funny, always sharp Paths; Unparalleled, given a strong performance by Frances Mayli McCann, finds the social class differences between herself and the man (Luke Newberry) sitting across the table from her a problem. She admits he's "fit but boring". He can't even recall her name. His "daddy's rich, your privilege reeks, and it permeates past your fake accent." When he offers to walk her home, she says at least then the "chime of my keys won't have to be the melody to a harmony of catcalls. The lyrics to every walk alone. The song women know all too well."
Her irritation with his class extends to "this government... who serve the 12% only." Boris is corrupt and Starmer is "a Tory in a red tie, the race report is a lie. A statue holds more value in their eyes than black lives." Looking at her companion drinking and reading his phone, she says, "our lives are parallel and will never cross. Whilst your path is already engraved with success, ours is not even paved."
Class differences are also an issue in Naomi Lundie-Smith's Summer Friends?. A young woman (Jemima Mayala) is sitting with someone we never see in the carriage of a Victoria Tube train travelling to Walthamstow. They both attend a private school that she joined as a result of a scholarship. It's a place where she feels "like a fish in a tank of sharks". But she is in love with this person, so believes they are different and that they will be more than just summer friends.
The man (Tyreke Leslie) on the microphone in Heartband by Tyreke Leslie enthuses first about the incredible things love has done to him, before bitterly asking someone "who had my heart on fire... are you just a shit person?"
The young man (Tyrone Huntley) and woman (Kemi Awoderu) in Beyond Touch (of a) Screen by Blessing Adetunji never touch, but in voice-over speak about their long absence from the contact they have yearned for and the uncertainties they feel about it.
The optimism of that piece is also there in Lockdown FM performed by nine cast members who sing, "through times good and bad we all get stronger, even through days that felt longer and longer."
Drunk in the dream wave by Fatima Kazmi takes us to the inner turmoil of schoolgirl Carmen, who, waking from sleep, encounters the sinister figure of Alastor Griffin (Luke Newberry) who points to the difficulties she is having with her mum, who, despite a serious drink problem, can't go to rehab because of COVID restrictions. Yet memories of good times with her mother help her find a way through.
The anxieties and uncertainty anyone can feel in this period are experienced by the young person trying to write in Lars: Ulcers by Sam Pickering.
Images by Taichi Shinokubo suggest that we need to change the way we allow our identity to be shaped. A camera pans across mountains of balloons, old telephones and other consumer objects as the voice of a woman warns us, "we all work hours in jobs we hate with a passion to buy shit that is not essential to our lives." She advises that there is "no need to try to be special because you already are."
Reviewer: Keith Mckenna