Living Quarters
Brian Friel
Tobacco Factory Theatres and Shakespeare at the Tobacco Factory
Tobacco Factory Theatres
–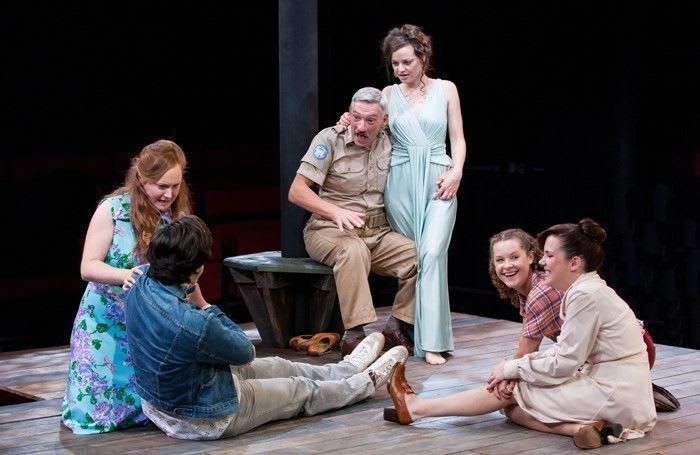 Shakespeare at the Tobacco Factory's Andrew Hilton directed the UK première of Brian Friel's exquisite Living Quarters for Show of Strength at the Hen and Chicken, Bristol back in 1991. It's easy to see why it stayed with Hilton powerfully enough for him to want to pitch a revival as a co-pro with Tobacco Factory Theatres.
Friel works his inimitable magic on this compelling study of the intricacies of family life, presenting a re-working of the Greek myth of Hippolytus and his doomed love affair with his stepmother, Phaedra.
The combined fates of the Butler family are played out before us, overseen by the fascinating 'Sir' (Christopher Bianchi), a deus ex machina who has the family replay scenes from one fated evening, the action already scripted out in a ledger he carries with him, inescapable.
The family writhe uncomfortably, seeing themselves and their actions now as others see them, and plead with Sir to play out some scenes differently, desperate to put a better foot forward. To no avail: they are kept rigidly to their fates.
Joe Hall is a hearty Father Tom Carty, driven not to have to revisit the shame of that fated night when, incapacitated with drink, he is powerless to protect the family he loves. There's a dignity about Hall's Carty as he resigns himself to his fate and plays out his failings.
Eoin Slattery is a fully-realised Charlie, confined reluctantly to the very edges of the action but lighting up the stage, none the less, with every appearance.
This is a fascinating piece, well-suited to being staged in-the-round at the Tobacco Factory. But this production leaves a distinct unease: Friel's text needs the lightest of touches to enable it to shine, and the cast don't entirely achieve that delicacy here. Indeed, there are moments where a heavy-handed approach all but smothers that finesse.
Reviewer: Allison Vale