Living Spit's Odyssey
Howard Coggins, Stu McLoughlin and Kate Dimbleby
Living Spit
Factory Theatre, Tobacco Factory Theatres, Bristol
–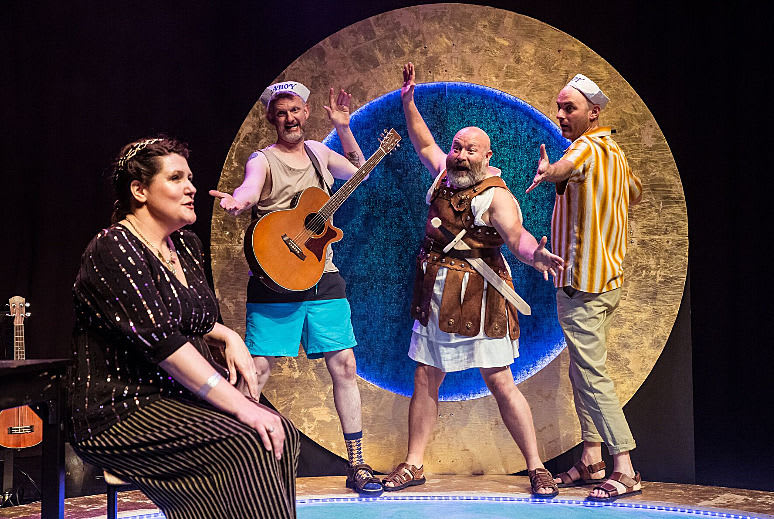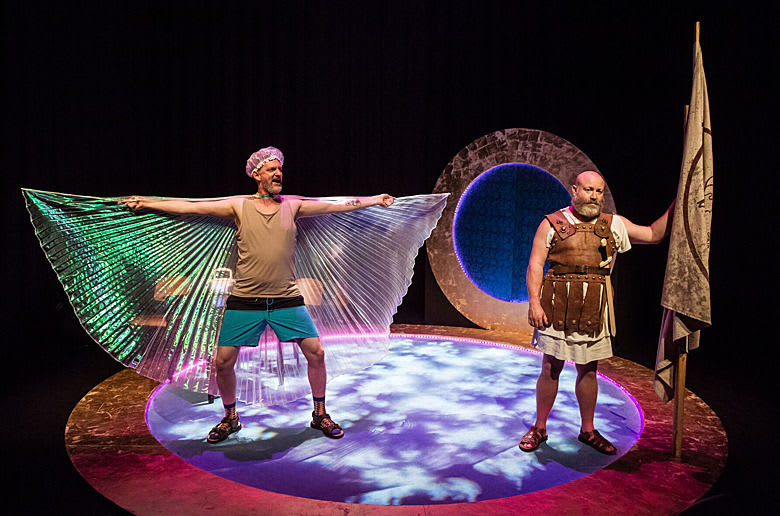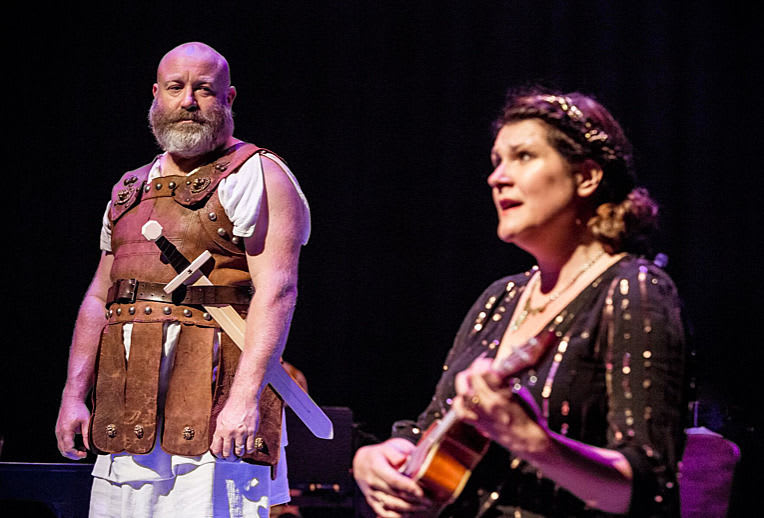 Bristol comedy duo Living Spit returns to the Tobacco Factory with a unique rendition of Homer's Odyssey. This home audience knows what to expect by now from Howard Coggins and Stu McLoughlin at their best, based on shows such as Adolf & Winston or Elizabeth I—Virgin on the Ridiculous: knockabout hilarity and bawdy jokes, supremely inventive storytelling and silly songs, audience interaction and plenty of dressing up with bad wigs.
Living Spit's Odyssey is different, though, as the endearing duo are joined on stage by jazz and blues singer Kate Dimbleby and professional musician Sam Mills. Dimbleby takes centre stage as Penelope, waiting in Ithaca for 20 years while her husband Odysseus is away fighting in the Trojan wars and serially delayed on his epic journey home.
Penelope's house is reinvented as a nightclub, because, rather than sitting and weaving for two decades, this 21st century version of an empowered Penelope has been entertaining her many suitors with song—her smoky tones layered to a crescendo on a vocal looper. It's a strong opening number that she insists on finishing, despite the untimely interruption of a triumphantly returning Odysseus—played by Coggins and accompanied by McLoughlin's Anonymous Minion 1—proclaiming, swearing and desperate to regale her with his exploits and explain his multiple detours.
Before a sceptical Penelope, Odysseus and his Minion then re-enact their travails—stopping off at the land of the Lotus Eaters because the ship's crew wanted a proper poo in privacy, then trapped in a cave by the cyclops Polyphemus as they seek to exchange their plentiful supply of wine for a much-needed truckle of cheese. Supporting this narrative, Mills proves to be a versatile actor as well as musician, stepping in to play a dish-plying waiter in a Chinese restaurant and Polyphemus's swivel-eyed lone surviving sheep.
There's plenty of laugh-out-loud creativity in the simple rotation of dishes in the restaurant, the use of torches in the dark cave to create multiple characters and the panto-like retelling of the crew's disastrous appropriation of Aeolus's bag of winds. The songs are warm and witty and the foursome makes effective use of ingenious costumes and props and Katie Sykes's simple circular set. But there are also moments between episodes where the comic momentum seems to flag.
The second act is much slicker, as Odysseus resists being turned into a pig by Circe thanks to a hilariously simple delivery from Hermes. His vivid sacrifice of a soft-toy goat and sheep draws gasps from the audience; he encounters a very lively Land of the Dead and evades the sirens' call, only to be trapped by the nymph Calypso—an amorous McLoughlin dressed up in best shower-curtain style. There is even pathos as Penelope expresses doubts about her husband's enduring love, accompanying herself on the ukulele, and Odysseus sings a torch song, joined by his wife in an unexpectedly moving duet.
While Living Spit's brand of raucous playfulness has always been underpinned by structure and skill, this collaboration brings a new and hitherto unseen sophistication to their performance. Dimbleby is not only a singer and musician but also an accomplished raconteur; their contrasting styles meld successfully to bring greater depth to the show's musicality and emotional breadth to its larky storytelling.
Reviewer: Claire Hayes