Living With The Lights On
Mark Lockyer
Actors Touring Company
Young Vic (The Clare)
–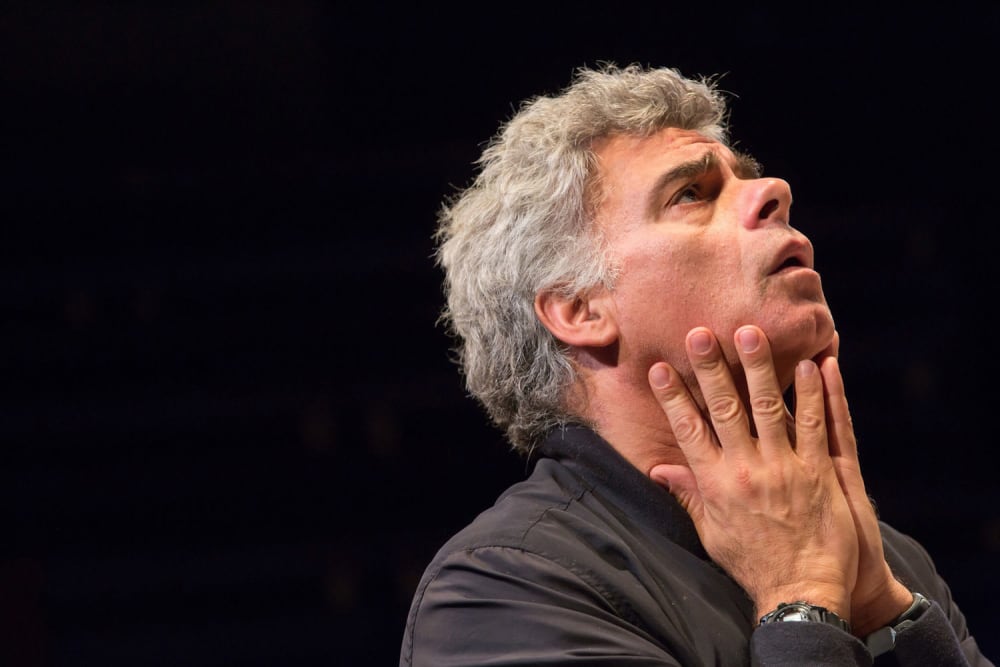 Living with the Lights On is a one-man tour-de-force about manic depression that is by turns very funny and tremendously moving delivered by actor Mark Lockyer.
It is staged in a theatre that looks as though it is without a production: a metal stepladder against the wall, a table with some bottles of water, a couple of chairs and some clutter, a well-lit space but no lighting cues, no effects, no music. There is a tea urn and biscuits on offer on arrival—you could be here for a meeting or a rehearsal—and Lockyer is darting around chatting to people; he seems to have friends in the audience.
When everyone is in, he thanks them for coming. Are they here for a chat or is this a "proper" performance? Well it's both. Is it brave self-exposure, a public confessional, or a carefully scripted, cleverly constructed performance? All those too.
He takes his listeners on a journey from a sofa in Putney where he is listening to a Robbie Williams track in his underpants to the Stratford stage of the RSC, through gross infidelities, planned arson and attempted suicide to prison, turbaned therapists and mental hospital with the Devil in person popping up all the time on the way.
Of course, it could just be a script. If it is, it gets a fantastic performance. But it's not, and that makes this even more impressive as nightmare experience draws laughter at the same time as sharing the terror.
Lockyer's devil is a Beelzebub who looks like a Californian beach boy and says he has lost his way to the theatre. He says he is Lockyer's MD and comes up with brilliant ideas when guitar-playing Lockyer is song writing. But it isn't really Musical Director those letters stand for. They see Locker uncontrollably chopping out chunks from one of the Bard's most difficult speeches and going berserk in the middle of Romeo and Juliet, mixing talc with his tears as he cracks up in his dressing room.
Lockyer will leave some people wickedly wondering just who it was in his story who gave a new meaning to "Blowing in the Wind," one that definitely was not Dylan's, but he will also have given them a better understanding of just what it is like to have mental health problems and how they may happen to anyone. And they will have had a good time too in an intense 75 minutes played straight through.
Reviewer: Howard Loxton