Liza (on an E)
Trevor Ashley & Dean Byrant
Vaudeville Theatre
–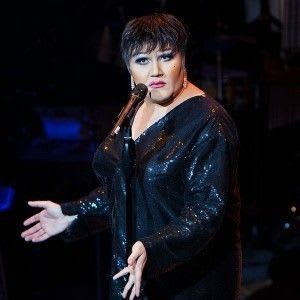 Trevor Ashley is frighteningly good as Ms Minnelli in his one-man cabaret show playing at the Vaudeville Theatre for six shows only.
Backed by a superb band headed up by the dynamic music director and pianist George Dyer, Ashley rips his way through some hilarious and at time extremely touching songs. One of the many highlights is a new rendition of "Mein Herr" mashed up with "Be Our Guest" which pokes fun at Minnelli's disastrous marriage to David Gest.
He has her mannerisms down to 'T' from her tendency to slur and jumble words, to her classic end of song poses and bizarre giggles. Ashley communicates both the comedy and tragedy of Minnelli's life—recognising her enormous contribution to the entertainment industry—and also her many vices.
His great affection for her is evident; his versions of "Losing My Mind" from Follies and "Maybe This Time" are a moving reminder of her search for love and affection which seem to be denied her. He also highlights her similarities to her 'mama' Judy Garland and does a damned good impression of Judy as well!
Ashley has the audience on their feet in a standing ovation after his exceptionally good finale of "New York New York" and loses the wig to give us "Somewhere Over the Rainbow", a song that Liza refused to perform at her own concerts. We can see why through Ashley—it was very much her mama's song.
Reviewer: Anna Jones