Lizzie Siddal
Jeremy Green
Copperhead Productions and Peter Huntley Productions
Arcola Theatre
–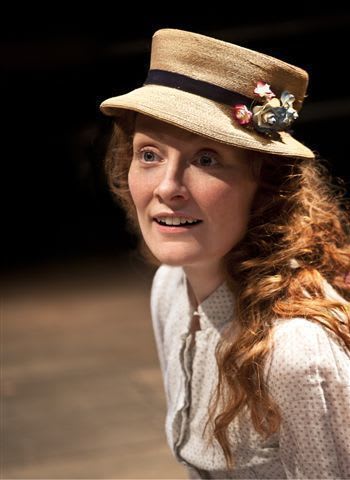 Lizzie Siddal, you may not realised it but you do know her. She is the girl in the most popular painting in the Tate Britain collection, the model for Millais painting of the drowning Ophelia.
She nearly died of pneumonia after the ordeal of lying in a cold bath after the lamps warming the water went out as he went on painting.
Millais appears in the play, calling himself "the best painter in England" his self promotion given a certain charm by James Northcote, but it is Lizzie's relationship with painter and poet Dante Gabriel Rossetti that is central to it.
Tom Bateman makes Rossetti a sociable, chatty fellow, as eager to gossip as pick up a paint brush, but he can't stop drawing Siddal and she is drawn to him. Emma West's Lizzie is self-contained, a beautifully gauged study of a woman gaining confidence in her own abilities and wanting to become herself a painter, a woman prepared to wait until Rossetti is ready to marry her but being repeatedly disappointed. When they do marry it is perhaps too late…
What seems at first a happy story of this bohemian group of artists, with Rossetti full of banter and the play full of laughs, turns into something much darker. Rossetti, like his Pre-Raphaelite brothers, wants to paint precisely from life but his subjects tend to be romantic legend and his life seems to follow a similar pattern. His treatment of the woman who is now his wife becomes unkind, uncaringly cruel.
There is a rather comic portrait of William Holman Hunt from Simon Darwen and Daniel Crossley presents a satirical portrait of John Ruskin, who makes Lizzie an allowance and takes charge of her drawing classes.
But it is another fine performance by Crossley that seems at the heart of the play as the head of an art college in Sheffield who recognizes her as a women breaking new ground, a role-model for a new woman, but the new life Lizzie was trying to make for herself was ended by the laudanum that Ruskin recommended to her.
And there is yet a further coda, more of which Rossetti is still capable.
From a bantering first act to its tragic conclusion, director Lotte Wakeham delivers a very watchable production, simply and directly mounted, that takes us right into a world where class and gender imposed limits we would find unbearable today.
Reviewer: Howard Loxton