Loaded
Jo Kirtley Pritchard
Working Progress Theatre Company
New Century House, Manchester (24:7 Theatre Festival)
–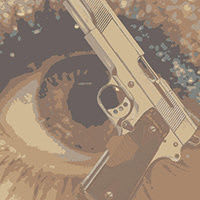 Jo Kirtley Pritchard has brought her own experiences as a youth worker in Gorton, Manchester into her play through the character of Ella Hall, also a youth worker and also from the writer's native Newcastle-upon-Tyne.
The basic setting of the play is a school which is the last stop for some youngsters with serious behavioural issues between regular schools and pupil referral units, which deal with the most difficult children, often from severely troubled backgrounds.
Chantelle is a foul-mouthed 15-year-old who has had to look after her alcoholic mother for years and now lives with a stepfather, Larry, as well. She meets 18-year-old Dylan and falls for him, but she is disgusted to find out that he is involved with local gangsters. He promises to give all that up for her, but will he be tempted back into it when he hasn't known any other line of employment? And is Larry's close interest in Chantelle merely fatherly concern?
The play does enter into many of these questions and issues, and the portrayal of the characters and incidents shows the writer's close association with and deep knowledge of people with similar backgrounds and problems, which gives a real stamp of authenticity to the characters. However there are problems with structuring these incidents into a coherent plot.
With a rather slapdash approach to plotting, the whole play comes across as a jumble of incidents—some funny, some moving, some shocking—that don't build up to maximise their impact. There are some impressive scenes of violence which go on for too long so that rather than achieving the shock effect they seem to be aiming for they actually become a bit dull.
There are, however, some impressive performances. As Chantelle, Dolly-Rose Campbell, no stranger to 24:7 in the past, is totally convincing as a mouthy teenage girl, and Rob Ward looks just right as her gorky lover Dylan, plus Darren Connolly straddles the line between concerned (step) parent and someone who is a bit sinister and potentially violent just perfectly.
Interestingly, the least-developed character is the one based loosely on the playwright herself, as, although she tells us some information about herself, we never really seem to know her; she seems to exist only as a conduit into the lives of the other characters. Because of this, the ending doesn't feel sufficiently justified and seems to be tagged on for shock effect.
But there is some good writing and there are some great characters, plus this show must be able to boast the quickest walk-out of the festival: as soon as Chantelle entered throwing out a string of profanities, an older lady walked out within a minute of the play opening at the performance I attended.
Additional note: Disappointingly, I've been advised by the director that the lady walked out because she had gone into the wrong production. Even older Manchester theatre audiences are a pretty tolerant bunch.
Reviewer: David Chadderton