Locked Room / Ghost Patrol
Huw Watkin and Stuart McRae
Music Theatre Wales
Linbury Studio, Royal Opera House
–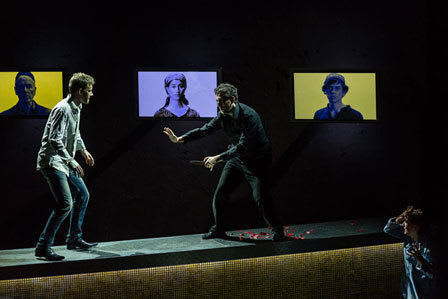 This operatic double bill gives a chance to glimpse at two different portrayals of how a person can be fixated on an idea, and how this can consume their life.
Music Theatre Wales has collaborated with Scottish Opera to produce two new fifty-minute operas, contrasting but complementary. Conducted by Michael Rafferty, the two operas deliver interesting sound worlds, with entirely instrumentation focus.
The Locked Room, deals with a couple who've moved to the coast and are sharing a house with the elusive poet Ben Bascoe (Hakan Vramscoe). The wife Ella (Ruby Hughes) is left alone in the house whilst her husband fights for his biggest city deal yet. She obsesses over the poet she never meets and fantasizes a relationship for the pair.
Designer Samal Black uses a minimal set, the focal point a model house with a textured sandpaper-like backdrop. Mirroring Ella's confusion with reality, different strands of the narrative overlap as landlady (Louise Winter), poet and couple all co-exist in the same space. Michael McCarthy's (director) clever interweaving of fiction and fact cut out any unnecessary spiel and this fifty-minute slot is jam-packed with ideas, making a gripping piece of writing. This, coupled with Huw Watkins (composer) repeating, quick fluttering rhythms that drive the piece forward, keep the condensed work bristling with unfolding moments.
The four-person cast make a brilliant ensemble with no weak links. It is husband Paul Curievici that really excels, though, with spectacular vocal prowess and a truly convincing character portrayal, perhaps because he is playing the stereotypical egotistical tenor. Curievici swaggers about stage, determined to make his deal 'come good'. He won't truly acknowledge his wife distancing and delusions, forcing himself onto her with a frighteningly believable brutality.
In Ghost Patrol, Sam, an ex-sergeant sleeping rough, attempts to break into a barracks bar. Unknowingly he gets into a fight with the owner, Alisdair, who was his officer in the Army. Recognizing his opponent, Alisdair gives Sam a job. Librettist Louise Welsh writes quick, witty dialogue as the pair swap stories, recounting their friendship.
Alisdair suffers from dreadful nightmares, recollecting a horrific incident involving the death of a female civilian for which he blames himself. Musically Stuart McRae mixes recorded sound with a percussion driven score to reach a climax reminiscent of a war zone.
Alisdair, attempting to block out the horrors of war, drinks too much and his girlfriend Vicki falls for Sam. Realising their deception, Alisdair forces Sam to recount their shared secret which has never really left either of them. War is ever-present, whether or not they are still fighting and the slow destruction of the bar mirrors a battlefield onstage.
This piece is an exciting mix of stunning voices, interesting new sound worlds and a gripping idea of the ghost ex-soldiers. McRae at times mixes in touches of corrupted folk, wailing strings and an intensely percussive score. However, whereas The Locked Room ensured each minute was truly necessary, this opera could be whittled down further. There's a large mid-section of recollection, repeating with the intention of demonstrating how the girl's death never leaves Sam, that instead feels as if it could continue to spiral round and there may be no way out until midnight.
Jane Harrington's (Vicki) voice is hauntingly free with a real warmth that emphasizes her forgiving character. Nicholas Sharatt (Sam) is vocally brilliant and captures our sympathy as he physically demonstrates his recurring nightmares.
James Mc-Oran Campbell has only just finished amazing as Eugene Onegin with Grange Park, but is certainly up to the task of giving us more despair and anguish. He plays a wonderfully convincing drunk other than the continual brilliance of his voice.
This is an exciting new pair of operas and, with a tour planned all over the country, it's certainly worth trying to make it to a venue near you.
Touring to:
Oxford Playhouse: 30th September
Mumford Theatre, Cambridge: 2nd October
The Anvil, Basingstoke: 9th October
Aberystwyth Arts Centre: 30th October
Sherman Theatre, Cardiff: 2nd November
RNCM Manchester: 7th November
Clwyd Theatr Cymru Mold: 11th November
Reviewer: Louise Lewis