Lola
Trestle in collaboration with Increpación Danza
Tobacco Factory, Bristol, and touring
(2008)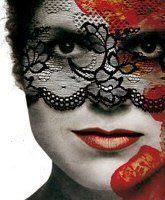 Had I been writing about the real Lola Montez, I would have to be careful what I said. In the 1840s she famously horse-whipped a Parisian critic who claimed she had no talent. Such was the whim of the lady once labelled 'the most outrageous woman in the world': dancer, courtesan, countess, fraud, born in Ireland but later adopting a Spanish name to give her persona a bit more spice. At one point, Trestle's Lola (Georgina Roberts) asks if such a complicated woman can even know herself?
It's a valid question, but one that makes a tricky premise for a bio-drama. Indeed, the trouble with making a play out of anyone's life is not the lack of drama inherent in it (Lola's is bursting with tales of soap-operatic proportions) but the difficulty of picking out the moments worth dramatising and giving them enough dramatic shape to take them from the workshop to the stage.
Trestle artistic director Emily Gray's success in this case is only partial. She employs a play within a play format, where former friend Miriam Follin (Fiona Putnam) bursts in on the beginning of Lola's final performance to make sure she tells the truth about herself. In a pageant-esque re-enactment worthy of Montez's alleged flamboyance, the two characters step in and out of the whirlwind framework of Lola's life, at one point even swapping the title role.
Visually this is stunning. Roberts and Putnam whip through Chloe Lamford's richly coloured set and costumes with outlandish verve. Props are used fabulously, most effectively in moments of wit and farce; Lola's wooing of the composer Liszt with chattering castanets, or the numerous fans that become letters, babies and more. Ricardo Garcia's composition and live guitar accompaniment provides an added depth to the action as he draws on flamenco's broad emotional range to frame the story's dynamics.
Similarly Barcelona's Increpación Danza who collaborated with Trestle over movement in the piece, have created a rich physical language, punctuated by flamenco vocabulary: a stamp here, a twirl of the wrist there. It's a language which Roberts embraces with gusto. Indeed she herself turns in an heroic performance, fizzing with diva charisma which slowly cracks to reveal a more vulnerable core.
Fiona Putnam however seems to have been sentenced by the script to perform a disjointed series of two-dimensional roles in the first half of the play that mainly consist of shallow and deep-voiced men. Not until the first climax of the piece is she permitted any moment of real drama ­ the script lacks it almost entirely up to this point, consisting of whimsical vignettes and moving tableaux that do little more than establish Lola's character.
Gray cleverly chooses to withhold Lola's early life for later on, allowing us to build up a sense of the woman's mask before it is shattered, but by that point it seems too late to start crafting a dramatic arc, and the first half subsequently feels like a very long introduction.
True, Roberts whips out a fiery climax for her final dance, a stunning display of classical flamenco layered with Lola's frenetic neurosis, but it's no more than the icing on a cake which is made more of style than of substance.
Touring to Liverpool, Exeter, Derby, Winchester, Cirencester and the Riverside Studios, London.
Leon Conrad reviewed this production at the Riverside Studios
Reviewer: Lucy Ribchester