London Calling
Gareth Machin
Salisbury Playhouse
Salisbury Playhouse
–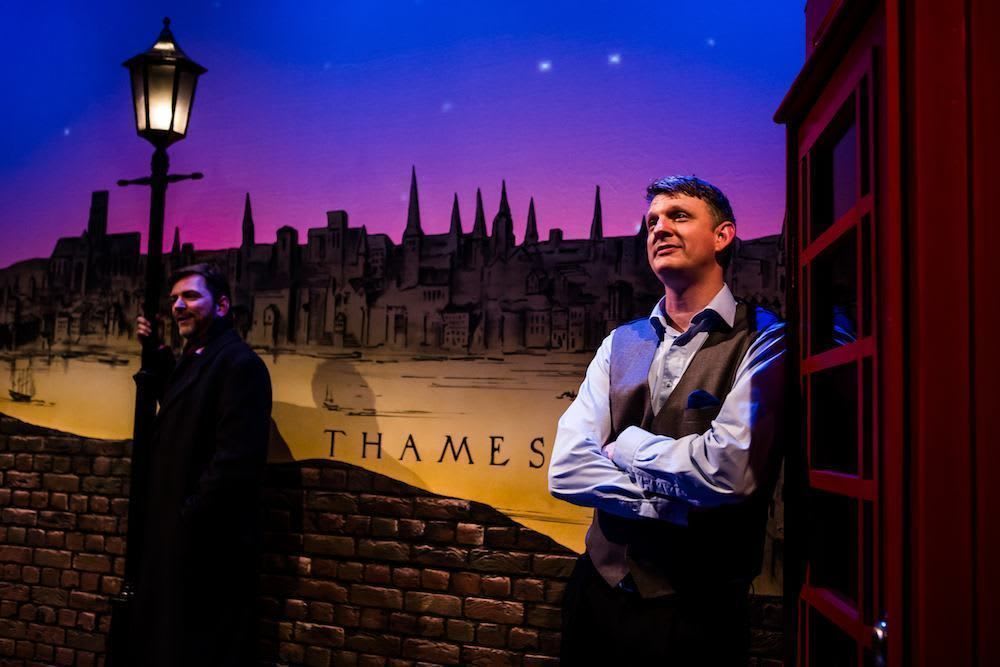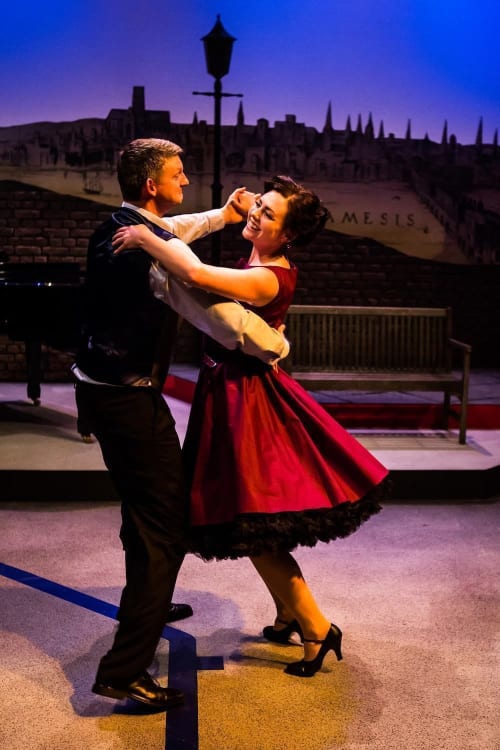 We're in the Salberg tonight, the Playhouse's studio theatre. Oh no we're not (it is that time of year, after all)—we're somewhere along the Thames Embankment, overlooking the river, with its sailing boats and strangely unfamiliar skyline. The dome of St Paul's? Nowhere to be seen. Houses of Parliament? Pre-Pugin at any rate.
There's a red glow in the sky and some signs that we're not going to remain in the seventeenth century for long, though. That Victorian lamp standard, for instance, in the middle foreground, that enormous Underground sign and, already looking uncomfortably anachronistic, that red telephone boxes.
Plenty to think about then, before a hint of Big Ben chimes, then a rendering of Wordsworth's Upon Westminster Bridge to get us into the mood before the first song. Because this is going to be a kind of musical history of London, exploring its darkest corners as well as its more celebrated locations. And we'll go along with "Earth has not anything to show more fair" although nothing can stop Flanders and Swann's "Any more fares?" making a sneaky intrusion into our thoughts at the same time.
So is this a vast extravaganza of a production? Actually no. There isn't room in the Salberg for a start. It's a team of three. But what a team!
Glyn Kerslake, Stuart McLoughlin and Lauren Storer aren't just superb actors. They are all musicians, dancers and, above all, singers, having an instinctive empathy with the audience's mood and sharing the collective experience with something, at times, akin to joy.
There are twenty-six numbers in the show (twenty-seven if you count the final encore which has to be "Maybe it's because I'm a Londoner", of course, with the audience stamping rhythmically—more or less—in appreciation), covering central London, but also Wimbledon (was ever a tennis match charged with such a level of sexual innuendo?) and interwoven with speeches from Shakespeare, Pepys and Dickens.
When Stuart McLoughlin tentatively courts Lauren Storer on a bench in Soho Square or encourages us to "hold very tight please" on that 37-horsepower London bus, we're sharing the incident. We know what he's talking about. We've been there, sometimes literally. As children we've sung "London Bridge is Falling Down", "Pussy Cart, Pussy Cat, where have you been?" and "Oranges and Lemons". Then there's the nightingale singing in Berkeley Square with its angels dining at the Ritz and the clever transformation of the Lonny Donegan "Rock Island Line" into the "Piccadilly Line Song".
So many lovely songs—Noël Coward's "London Pride" and the Kinks' "Waterloo Sunset"—but many of them evoking the darker side of London life. The beggars and down-and-outs for instance, Flanagan and Allen's "Underneath the Arches" and, of course, "The Streets of London". Strange how Lauren Storer's iconic alto saxophone solo required a certain fumbling for tissues among the audience.
This is London calling, then. But hasn't London changed? Aren't there other influences at work in the capital city? Can we hope that Gareth Machin, who wrote and directed this thoughtful and highly enjoyable show, already has a notebook with some ideas for another production with—perhaps—a touch of Caribbean?
And when you got home and discovered that catastrophe had struck the Apollo Theatre in Shaftesbury Avenue, causing the immediate closing of the theatre, did you think, as I did, rather selfishly, "Glad it wasn't Salisbury Playhouse. Wouldn't have wanted to miss tonight's show"?
Yes. It really is that good.
Reviewer: Anne Hill